Si je ne vous ai pas parlé de cet album l'an dernier, c'est bien parce que je ne le connaissais pas encore. Car sinon, et ceux qui subissent ma passion sans borne pour The Divine Comedy vous le confirmeront, vous n'y auriez pas coupé.
1. A Tie For Free
2. The Kingdom's Mine
3. Goodbye, Society !
4. My Favourite Day
5. Invisible
6. The Things We Love
7. Slowmotion Street
8. Who Is Losing Sleep Over That ?
9. Light In My Room
10. Rewind The Years
11. Too Much Logic
12. No Lovesong
13. Watching The Sea
14. My Rhyme

date de sortie : 25-05-2006
Label : Autoproduction
Un songwriter autrichien multicasquettes (auteur, compositeur, producteur, arrangeur et multi-instrumentiste) chassant sans le moindre complexe sur les terres de Neil Hannon, vous y croyez, vous ?
Et pourtant, dès le morceau d'ouverture de A Tie For Free, premier album sorti en mai dernier, l'évidence s'impose : voix profonde et arrangements savants, ce même mélange de candeur romantique et d'ironie facétieuse, un talent certain pour observer la société avec humour et dérision, le lyrisme des mélodies et du chant, c'est bel et bien au côté de The Divine Comedy que l'on tentera d'abord de ranger Richard Kapp, du moins jusqu'à ce qu'on réalise à quel point l'idée était réductrice.
Car si The Kingdom's Mine, peut-être bien le sommet de l'album, réussit en effet l'exploit de renouer avec la mélancolie céleste sur sonorités un peu cheap, limite 80's (on pense à 10cc, influence pleinement revendiquée) qui faisait le charme des plus beaux moments de Liberation, on réalise dès l'échappée finale que les compositions sont ici plus mouvantes que chez The Divine Comedy, lorgnant sur la liberté du jazz, la folie douce d'un Burt Bacharach (pour les mélodies tortueuses comme pour les arrangements libertaires) ou le sens de la rupture d'un Scott Walker, et ne dédaignent pas non plus l'électro : Invisible n'est ainsi pas bien loin de l'excellent Jeremy Warmsley dont nous reparlerons très bientôt.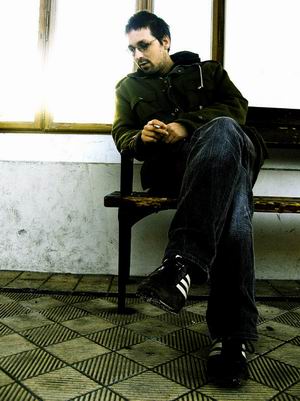 On croise également sur A Tie For Free des sonorités nu-jazz (Watching The Sea), rock (le final de Goodbye, Society !), folk (No Lovesong), smooth-jazz (Slowmotion Street), acid-jazz (Too Much Logic), bossa-nova (le formidable Favourite Day) ou même slaves : Who Is Losing Sleep Over That ?, qui doit beaucoup à l'accent de son auteur-narrateur le musicien country islandais Gis Johannsson, tandis que Woodstock Taylor fait merveille sur The Things We Love en petite soeur de Marianne Faithfull.
Accompagné du seul bassiste Peter Kearns, également co-producteur, sur une moitié d'album et du guitariste Mark "Spenny" Spencer sur deux morceaux, Richard Kapp assure donc tout le reste lui-même. Une maturité précoce que reflète à la perfection ce premier essai riche et varié, dont le successeur sorti le mois dernier, Short Songs, tient parfaitement les promesses. Chronique à suivre...
---
Chroniques - 11.04.2007 par
---