Le duo Invaders s'était déjà distingué en début d'année avec l'excellent Carnival Of Sounds dont il reste encore quelques exemplaires chez Il Monstro et qui était loué dans nos colonnes pour son aptitude à réinventer l'atmosphère oppressante du film quasi-homonyme de Herk Harvey. L'an dernier, lorsque nous avons proposé à Nicolas Courret, moitié d'Invaders, de participer au projet IRMxTP, celui-ci a manifesté un enthousiasme que l'on retrouve sur The Log Song, morceau spécialement conçu pour l'occasion.
Comme quoi, l'authenticité finit toujours par emporter la mise. Et si l'on retrouve sur ce titre les claviers oppressants et délicieusement lugubres de Carnival of Sounds, la voix de Rachel Langlais permet de développer une touche fantasmagorique qui ne fait néanmoins que retarder l'échéance de l'inévitable faillite s'offrant à l'ensemble des acteurs de la scène qui se déroule entre les écoutilles de l'auditeur.
Crépusculaire et hanté, The Log Song n'en reste donc pas moins une chanson - la première composée par Nicolas Courret - et sa place sur le septième volet du projet, le plus mélodique, est donc pleinement justifiée. Invaders y apparaît d'ailleurs aux côtés de la géniale Laëtitia Shériff dont Nicolas Courret était autrefois le batteur.
---
L'interview
IRM : Comment résumerais-tu ton rapport à Twin Peaks ? A l'univers de Lynch en général ?
Nicolas Courret (Invaders) : J'adore Lynch. Sa vision et son inspiration sont souvent cauchemardesques, mais avec toujours beaucoup d'humour. Ce que j'aime par-dessus tout c'est la dynamique, les changements d'humeur très brutaux qu'il propose : un moment très doux peut virer à l'horreur, une scène très dure peut devenir drôle et ridicule en une demi-seconde. Je repense à une scène de Lost Highway au cours de laquelle la tête d'un personnage vient s'encastrer dans une table basse pendant une bagarre je crois : c'est horrible et totalement ridicule en même temps… J'adore ça ! Disons que ce genre de « glissement » imprévisible provoque des choses très fortes émotionnellement, et c'est globalement ça que j'aime voir au cinéma mais aussi en écoutant de la musique, en lisant des BD, des bouquins…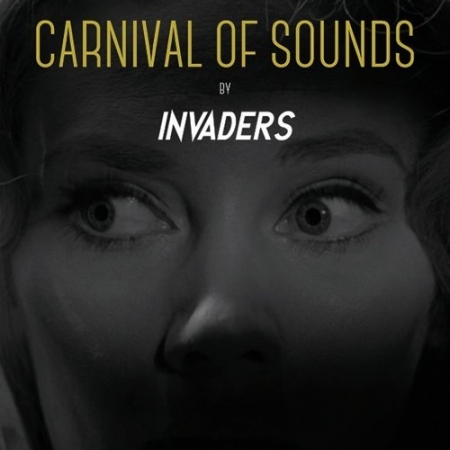 Ton personnage préféré dans la série ?
Réponse un peu facile peut-être, mais tous sans exception ! C'est aussi en ça que Twin Peaks est une réussite totale : tous les personnages sont extrêmement bien écrits, le casting est impeccable et les comédiens incroyables. Je parle des personnages principaux bien sûr mais aussi de tous les personnages « secondaires ».
Une scène qui t'a particulièrement touché... ou fait flipper ?
Chaque apparition de Bob est un délicieux moment de frayeur… J'ai également un souvenir totalement poignant du chagrin du père de Laura après la disparition de sa fille. Ray Wise est époustouflant et son personnage évolue de façon dingue au fur et à mesure des épisodes ! Tiens, du coup je vais finalement répondre à la question précédente : Leland Palmer !
Tu as enregistré un morceau pour notre future compilation Twin Peaks, quel aspect de la série t'a inspiré ?
Plusieurs choses : la musique d'Angelo Badalamenti, plus précisément les chansons à la fois douces et vénéneuses chantées par Julee Cruise. Et puis j'ai beaucoup pensé à la Dame à la Bûche lorsqu'elle déclare que celle-ci a des choses à dire, qu'un jour elle parlera… Et bien voilà, j'ai essayé de faire parler la Bûche !
Du coup ça m'a permis d'écrire une chanson. Pour la première fois. Et de travailler avec une chanteuse remarquable, Rachel Langlais (Vagina Town, Les Volleyeurs…) qui elle aussi est assez fan de Twin Peaks.
Tu as eu vent de quelques-uns des musiciens impliqués dans ce projet. Duquel es-tu le plus curieux d'entendre la contribution ?
Benoît Pioulard, et puis bien évidement ma copine Laetitia Shériff !
Un album vers lequel tu reviens quand il te faut ta dose de Garmonbozia ?
S'il faut en choisir un… Pixies, Trompe le Monde. Bon, ok, il n'y a pas que du Garmonbozia là-dedans mais justement… Les Pixies illustrent parfaitement ce dont je parlais tout à l'heure : tu peux changer d'ambiance en un quart de seconde, Frank Black va te susurrer un truc à l'oreille avec une voix de gamine et l'instant d'après il va te hurler dessus, comme lui seul sait le faire… Et c'est déchirant !
En février dernier, tu as sorti l'album Carnival of Souls. Quelques mots à ce propos ? D'autres projets sur les rails ?
Nous tournons actuellement avec ce projet, sous forme de ciné-concert (ce qui était la vocation première de ce travail), et on commence à réfléchir à une suite pour Invaders, toujours en lien avec l'image : ciné-concert, BD-concert, peut-être un mix des deux… Avec David Euverte, nous sommes également en train de composer la musique d'une série animée en ce moment. Encore un travail sur des images, donc !

---
---
English translation
IRM : How would you describe your relationship with Twin Peaks ? With the work/world of David Lynch in general ?
Nicolas Courret (Invaders) : I love Lynch. His vision and inspiration are often nightmarish, but always with a lot of humor. I particularly like the dynamic, the very brutal mood changes it offers : a very sweet moment can turn into horror, a very harsh scene can become funny and ridiculous in half a second. I remember a scene from Lost Highway in which the head of a character gets embedded in a coffee table during a fight : it's horrible and totally ridiculous at the same time... I love it ! Let's say that this kind of unpredictable "shift" causes very strong emotions, and that's what I like to see in movies but also when i listen to music, read comic books, novels...
Your favorite character in the series ?
Easy answer maybe, but all of them with no exception ! It is also because of this aspect that Twin Peaks is a total success : all the characters are extremely well written, the casting is impeccable and the actors incredible. I speak of the main characters of course but also of all the "supporting" cast.
A scene that particularly moved - or scared - you ?
Every appearance of Bob is a delightful moment of fright... I also have some poignant memories of the sorrow of Laura's father after the death of his daughter. Ray Wise is breathtaking and his character evolves wildly along the episodes ! Well, I'll finally answer the previous question : Leland Palmer !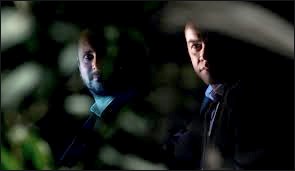 You recorded a track for our forthcoming Twin Peaks compilation, what aspect of the series inspired you ?
Several things : the music of Angelo Badalamenti, more precisely the songs both sweet and poisonous sung by Julee Cruise. And then I thought a lot about the Log Lady when she declares that her log has things to say, that one day it will speak... Well, here it is, I tried to make the Log speak !
So it allowed me to write a song. For the first time. And to work with a remarkable singer, Rachel Langlais (Vagina Town, Les Volleyeurs…) who is quite a fan of Twin Peaks herself.
You heard about some of the musicians involved in this project. Which one are you the most curious to hear the contribution from ?
Benoît Pioulard, and of course my friend Laetitia Shériff !
An album you often listen to when you need all your Garmonbozia ?
If I really have to choose one... Pixies, Trompe le Monde. Well, ok, there is ore to it that just Garmonbozia but that's the whole point... The Pixies illustrate perfectly that thing I was talking about earlier : the mood can change in a split second, Frank Black will whisper something in your ear with a girly voice and the next moment he's screaming at you, in his unique way... And it's heartbreaking !
Back in february, you released the album Carnival of Souls. A few words about it ? Some other projects on the way ?
We are currently shooting with this project, in the form of a movie music performance (which was the primary intent of this work), and we begin to think about a sequel for Invaders, still related to images : movie music concert, comic book concert, maybe a mix of both... With David Euverte, we are also composing the music of an animated series right now. So still working with images !

---
Un grand merci à Invaders. Leur morceau intitulé The Log Song (feat. Rachel Langlais) est paru sur notre volume VII, Where We're From, There's Always Music in the Air (Heaven Is a Large and Interesting Place) :
---
Interviews - 20.12.2017 par Elnorton, RabbitInYourHeadlights
---
---