Retrouvez chaque semaine dans nos pages les interviews de quelques-uns des contributeurs à la future compil' Twin Peaks d'IRM. Fondateur d'Etalabel, notre invité du jour nous a fait découvrir par ce biais nombre d'artistes passionnants, tels qu'Ambot ou Virlyn. Célébré dans nos pages pour ses sommets électro-acoustiques en solo Remaining Sounds ou Constraints, Grzegorz Bojanek prenait le mois dernier le contrepied de ces sorties abstraites avec Stories of an Old Man, mise en son des récits d'un vieil habitant de sa ville natale.
Cet album presque dark ambient aux atmosphères minimalistes mais aux sonorités luxuriantes, dont les instrumentaux particulièrement évocateurs déroulent même sans la voix de leur narrateur (uniquement présent sur la version audiobook de l'album dont on vous présente ci-dessous un extrait en images) leurs progressions inquiétantes de bande originale de souvenirs traumatiques, laissait augurer du meilleur pour la participation du Polonais à notre projet. Les prochains volets, après les rêveries étranges et décalées du Volume 1, exploreront en effet les trames d'un récit sans images parallèle à celui de la série de David Lynch et Mark Frost.
---
L'interview
IRM : Comment résumerais-tu ton rapport à Twin Peaks ? A l'univers de Lynch en général ?
Grzegorz Bojanek : C'est étrange, parce que David Lynch est devenu populaire dans mon pays, la Pologne, juste après les années de communisme. Lorsque Solidarność a gagné face aux communistes en 1989, la culture du monde occidental, bloquée jusqu'alors par les communistes, a commencé à affluer vers l'Europe de l'Est. J'avais 16 ans quand ils ont commencé à diffuser Twin Peaks à la télévision publique polonaise. Et cette série est immédiatement devenue populaire ! C'était tellement différent des séries télé que nous avions pu voir. Il n'y avait pas de Wikipédia à l'époque, donc il était assez difficile de trouver des informations sur Lynch et sur ses films. Quelques années plus tard, lorsque j'étudiais dans la ville de Wrocław, il y avait un petit cinéma qui passait des vieux films. Et ils ont fait une rétrospective David Lynch. Je suis allé voir Eraserhead - peu de gens connaissaient ce film dans mon pays ! C'était incroyable ! Aujourd'hui encore, je me souviens de ce sentiment d'angoisse après avoir vu le film. La semaine suivante, il y avait Elephant Man et c'était encore mieux ! C'était plié. Jusqu'à aujourd'hui, Lynch est resté l'un de mes réalisateurs préférés. Il ne donne pas de réponses évidentes, ses films sont compliqués - c'est ce qu'il y a de mieux à leur propos ! Et même Une Histoire Vraie a quelque chose d'unique, un facteur qui n'est pas présent dans les films d'autres réalisateurs.
Ton personnage préféré dans la série ?
J'aime tous ces personnages étranges, qui ne donnent pas de réponses évidentes, comme : Margaret Lanterman, aka la Dame à la Bûche, Phillip Gerard, aka le Manchot et MIKE qui est à l'intérieur de lui, Garland Briggs (plus tard, j'ai regardé Stargate principalement pour Don Sinclair Davis).
Une scène qui t'a particulièrement touché... ou fait flipper ?
Toutes ces scènes étranges avec le cheval qui apparaît et disparaît. Quand nous regardions Twin Peaks entre amis, nous dormions dans une tente dans le jardin d'un ami. Et donc, après avoir regardé l'épisode, nous étions tellement effrayés, assis dans cette tente sombre d'où nous pouvions entendre tous les bruits extérieurs de la forêt voisine. Bien sûr, nous discutions des scènes. Le meilleur c'est que Lynch pouvait vous effrayer sans utiliser tous ces effets spéciaux modernes ! Imaginez un peu, vous êtes tranquillement assis à la maison et, tout à coup, un cheval apparaît devant vous ! Nul besoin de vampires, de zombies ou de fantômes ! Juste un cheval ! Incroyable !
Tu as enregistré un morceau pour notre future compilation Twin Peaks, quel aspect de la série t'a inspiré ? Toute anecdote est bienvenue !
Avant d'enregistrer mon morceau, j'ai réécouté la BO de Badalamenti. Je me souviens qu'à l'époque, j'aimais le calme de sa musique. Et j'adorais aussi les images de la série - celles où l'on peut voir la forêt et cette immense chute d'eau. Je souhaitais combiner ces images avec cette sensation de calme.
Tu as eu vent de quelques-uns des musiciens impliqués dans ce projet. Duquel es-tu le plus curieux d'entendre la contribution ?
Bien sûr, je connais certains des musiciens. Je veux absolument écouter tous les morceaux, mais je suis vraiment curieux de ceux de : 36, Christopher Bissonnette, Lawrence English, Cezary Gapik, mon ami Jacaszek et Pjusk.
Un album vers lequel tu reviens quand il te faut ta dose de Garmonbozia ?
Je préfère ne pas expérimenter ce sentiment. Je préfère penser aux aspects positifs de la vie, la créativité, l'altruisme, l'amour... Mais quand je veux me calmer, j'écoute habituellement certains morceaux de Christopher Willits ou n'importe quoi de Taylor Deupree.
Tu viens de sortir ton premier album en trois ans, Stories of an Old Man, basé sur les enregistrements des récits d'un vieil homme de ton village en Pologne. Quelques mots à ce propos ? D'autres projets sur les rails ?
Mon nouvel album Stories of a Old Man est un peu différent de la musique que je compose habituellement. Cette fois, c'est un peu plus sombre, plein de sonorités ambient expérimentales et même de pulsations techno. Les morceaux sont des versions instrumentales de chansons récemment publiées sur un livre audio où Konrad Maszczyk (le "vieil homme" de la photo de couverture) raconte des histoires sur ma ville natale. Comme les histoires sont assez sombres (pleines de meurtres, d'évasions, d'explosions et d'arrestations par le régime communiste), la musique se devait d'être parfois sombre et troublante. L'album est disponible en streaming sur tous les services de diffusion habituels (Spotify, Deezer), mais vous pouvez aussi le soutenir sur Bandcamp.
---
---
Original english version
IRM : How would you describe your relationship with Twin Peaks ? With the work/world of David Lynch in general ?
Grzegorz Bojanek : This is strange, cause David Lynch became popular in my country (Poland) just after the years of communism. When Solidarity won over the communists in 1989, the culture of the western world, which was somewhat blocked by the communists, started to flow into the Eastern Europe. I was 16 than, when they started showing Twin Peaks on Polish public TV. And the TV series became immediately popular ! This show was so different from the TV series we could watch. There was no Wikipedia then, so it was quite difficult to find information about Lynch and his films. A few years later when I was studying in the city of Wrocław there was one small cinema which was showing old films. And they had the David Lynch retrospective. I went to see Eraserhead - not so many people knew about that film in my country ! It was amazing ! Even today, I still remember the feeling of anxiety after the I saw the film. Next week there was The Elephant Man and it was even better ! That was it. Until today Lynch is one of the best directors for me. He is not giving straight answers, his films are complicated - that's the best thing ! Well, even The Straight Story has something unique, a factor which is not present in the films of other directors.
Your favorite character in the series ?
I love all those strange characters, who don't give straight answers, like : Margaret Lanterman i.e. Log Lady, Phillip Gerard, i.e. The One Armed Man and MIKE who is inside him, Garland Briggs (later I watched Stargate mainly for Don Sinclair Davis).
A scene that particularly moved - or scared - you ?
All those strange scenes with the vanishing horse. When we were watching Twin Peaks with friends, we slept in a tent in my friend's garden. So after watching the episode we were so scared sitting in a dark tent, when we could hear all those sounds from the outside, from the nearby forest. Of course we were discussing the scenes. The best thing is that Lynch could scare without using all those modern special effects ! Well, just imagine that you sit at home and suddenly a horse appears in front of you ! You don't need the vampires, zombies, ghosts ! Just a horse ! Amazing !
You recorded a track for our forthcoming Twin Peaks compilation, what aspect of the series inspired you ? Any anecdote about that ?
Before recording the track I listened to Badalamenti's CD once more. I remember that back then I loved the calmness of his music. And I also loved the images from the film - those where you can see the forest and the huge waterfall. I wanted to combine those images with that calmness.
You heard about some of the musicians involved in this project. Which one are you the most curious to hear the contribution from ?
Of course I know some of the musicians. I want to listen to each and every track, but I am really curious about : 36, Christopher Bissonnette, Lawrence English, Cezary Gapik, my friend Jacaszek, and Pjusk.
An album you often listen to when you need all your Garmonbozia ?
I would rather not experience that feeling. I prefer to think about positive aspects of life, creativity, altruism, love... But when I want to calm down I usually listen to some of the Christopher Willits tracks or everything by Taylor Deupree.
You just released your first album since 2014, Stories of an Old Man, available for streaming and based on the recordings of an old man from your village in Poland. A few words about it ? Some other projects on the way ?
My new album Stories of an Old Man is a bit different than the music I usually compose. This time it's a bit darker stuff, full of ambient, experimental sounds and even some techno pulses. The tracks are instrumental versions of songs that has been recently issued on an audiobook where Konrad Maszczyk (the "old man" from the cover photo) tells stories about my hometown. As the stories are pretty dark (full of murders, breakouts, explosions, arrests by communist regime), the music must be sometimes dark and disturbing, too. Yes, the album is available on all streaming services (Spotify, Deezer), but you can support it on Bandcamp, too.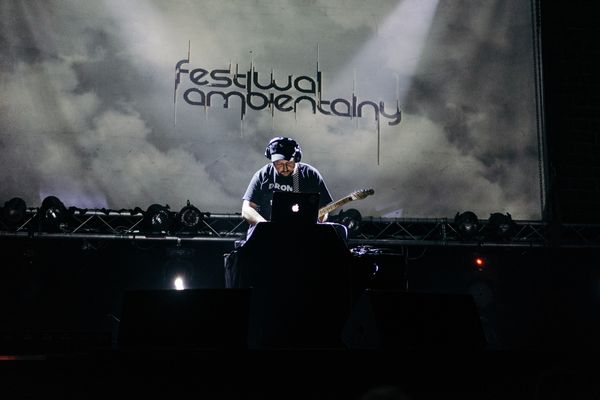 ---
Un grand merci à Grzegorz Bojanek. Son morceau intitulé Forest and Waterfall paraîtra sur notre compilation Twin Peaks plus tard dans l'année.
---
Photos : Piotr Michałowski / Alex Leonard.
---
Interviews - 23.05.2017 par
---