Le passé ne meurt pas.
Si The Brian Jonestown Massacre a su réhabiliter la période musicale anglaise des 60's, The Black Angels remettent au goût du jour la scène U.S. de cette même époque avec brio, classe et élégance. Passover sonne déjà comme un classique !
1 Young Men Dead
2 The First Vietnamese War
3 Sniper at the Gates Of Heaven
4 The Prodigal Sun
5 Black Grease
6 Manipulation
7 Empire
8 Better Off Alone
9 Bloodhounds on My Trail
10 Call to Arms

date de sortie : 11-04-2006
Label : Light in the Attic Records
Imaginez que vous tombiez presque par hasard sur un album d'un groupe américain parfaitement inconnu et quasi introuvable dans nos contrées faute de distributeur. Imaginez que cette musique au travers de 11 titres (hé oui, il y a le fameux morceau caché !) soit exactement celle que vous recherchiez depuis des années, en fait depuis votre naissance : le Graal. Je viens de la trouver.
Puisqu'il faut mettre des noms, des titres et des références, je vais m'en acquitter de ce pas. L'album s'intitule Passover et est l'oeuvre d'un groupe nommé The Black Angels qui sonne comme The Doors, The Velvet Underground, Creedence Clearwater Revival,...
Mais toute la nuance réside dans ce "comme", l'auditeur se devant d'être guidé et orienté, j'ai dû mettre ces indispensables références.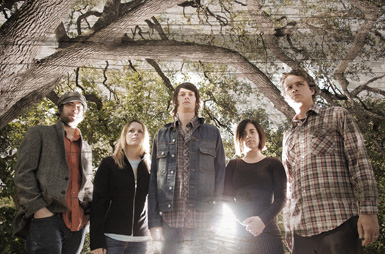 Formé en 2004 et basé à Austin, Texas, le groupe mené par Alex Maas (chant, guitares), Christian Bland (guitares), Nate Ryan (basse), Stephanie Bailey (batterie, percussions), Jennifer Raines (drone machine, synthés) et Richard Whymark (vidéo projection), a écumé les différentes et nombreuses scènes locales avant de conforter l'amitié qui les unissait en créant ce groupe de rock. C'est le jour de leur naissance que The Black Angels prenaient pour pensée commune "Turn On, Tune In, Drone out" soit "Branche, joue juste, vrombit le".
The Black Angels tirent leur nom, d'une part, de cette citation d'Edvard Munch, graphiste et peintre expressionniste norvégien du début du XXème siècle et pionnier de l'expressionnisme dans la peinture moderne, "Sickness, madness, and death were the black angels who stood round my cradle at birth" et, d'autre part, du titre mythique de The Velvet Underground, The Black Angel's Death Song.
Passover , composé majoritairement par les deux premiers EPs du groupe, The Sniper at the Gates Of Dawn et The Black Grease sortis en 2005, fait preuve d'un immense attachement et d'une maturité inégalée pour un premier album. La majorité des titres sont des compositions blues-rock avec des moments très forts comme Young Men Dead, Black Grease, Empire et The Prodigal Sun. Et que dire de Call to Arms sinon que l'on tient là un morceau que The Velvet Underground aurait aimé écrire si le groupe mythique était toujours là de nos jours : il résonne juste comme le frère de sang de Heroin et Sweet Jane réunis.
Comme The Brian Jonestown Massacre, The Black Angels retrouvent la révolte des années 60 en dénonçant les problèmes de nos sociétés contemporaines et des États-Unis actuellement. Comment ne pas rapprocher The First Vietnam War avec la guerre en Irak et à ce titre comparer The Black Angels et Creedence Clearwater Revival ? Le chant d'Alex Maas, s'apparente à un cri de désespoir, de détresse, un appel à la révolte ou plutôt à la prise de conscience des dangers qui menacent nos sociétés occidentales : inertie, abrutissement, état léthargique.
Ce qui fait la richesse et l'originalité de Passover , c'est le son si envoûtant de sa musique. L'utilisation par le groupe de cette drone machine n'y est pas étrangère : la puissance des basses, batteries et percussions soulignée par le synthé confirme le côté sombre de cet album. Mais ne vous méprenez pas : les titres sont noirs sans être déprimants.
Le Dieu du Rock vient de nous envoyer ses Anges nous livrer ce sublime message que constitue Passover . Et cette fois-ci, ses Anges sont Noirs.
Liens :

www.theblackangels.com

www.myspace.com/theblackangels
---
Chroniques - 03.01.2007 par
---