Le nerd en chef de l'écurie Hand'Solo s'amuse à renvoyer dos-à-dos la virilité affichée des rappeurs mainstream et les certitudes vacillantes des héros de films de guerre à papa, la rigidité des bidasses et la facétie non mois légendaire du hip-hop d'Halifax en jouant au Navy Seal dans la jungle insulaire de son nouvel album solo suintant le fun du danger pour de faux, la nouvelle mixtape de son alter-ego Grandpa Funnybook venant prolonger le plaisir en mode comics geek en compagnie du crew Backburner au grand complet.
Loin d'avoir la fleur au fusil sur le pneumatique qui l'amène en mission sur Cobra Island, le Canadien distille avec une subtile ironie son dégoût de la violence et de l'embrigadement sur cette sortie autoproduite au storytelling tellement engagé en apparence dans ses enjeux militaristes qu'il en devient hilarant, à la croisée de l'héroïsme de série B et du drame humaniste à la Platoon sur fond d'envers du décor pas forcément très reluisant... car sous la tente les trafics dont bon train. On s'échange d'ailleurs des beats en veux-tu en voilà, médailles de l'honneur décernées sur ce point à Timbuktu (malheureusement quasi absent au mic) des très bons Toolshed, Teenburger et Swamp Thing, Savillion déjà remarqué à la production de ces derniers, Fresh Kils pour deux titres lourds de tension cinématographique et Mister E qu'on espère d'ailleurs moins discret sur le prochain Backburner à paraître à l'automne que sur un Heatwave certes déjà parfait, tant son propre Dusting For Prints de 2010 impressionne sans discontinuer.
Pour résumer, les tubes pleuvent comme des balles perdues, de l'inquiétante trilogie A Letter From Snake Eyes au très glauque Venomous Ideology en passant par le groovesque Rap-Viper, That Guy With The Disguises et ses cordes vénéneuses dignes de Dr. Octagon, I Don't Wanna Go To Cobra-La en interlude pacifiste et désabusé ou encore l'épique Rank & File avec un Jesse Dangerously survolté et un More Or Les impérial entre autres recrues de choix - que l'on retrouve également tout comme le morceau d'ailleurs sur la dernière livraison du Stan Lee en goguette, j'ai nommé Grandpa Funnybook.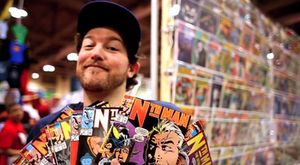 Soit une mixtape d'une trentaine de morceaux - et interludes en carton-pâte façon jeu vidéo 8-bit - dédiés à tous les pans de la culture pop et de la geek attitude (de super-héros décalés en parodies de séries TV et autres références SF ou fantasy), truffée de pépites inédites dans la lignée du volet précédent et suffisamment éclectique pour ne jamais nous laisser décrocher 65 minutes durant. Au-delà des titres déjà connus de Wordburglar ou Swamp Thing (John Carpenter et son boom bap dopé aux synthés pulsés), l'accent est mis cette fois sur la prospection de cette scène nerdy canadienne quasi inépuisable dont les talents locaux devraient alimenter pendant encore pas mal d'années les sorties du label Hand'Solo : citons Torrentz et son manifeste à super-pouvoirs construit sur un sample du générique de la série TV Batman, Klopfenpop et ses ambiances western désespérées, le smooth très Souls Of Mischief de Rift & Savilion, TuskenHaters et sa collab cartoonesque avec Ghettosocks des sus-nommés Teenburger au micro, le groove futuriste du Super Move de Mega Ran en bonus download only (avec Zilla Rocca et Open Mike Eagle en featuring, excusez du peu), Dual Core et son Farewell aussi percutant qu'éthéré ou encore Adam WarRock dont le God Of Mischief recycle un instru que les amateurs des Beastie Boys connaissent bien.
Quant à More Or Les, il nous fait là encore un véritable festival, qu'il arpente le multivers au gré de l'hyperactif Bigger On the Inside ou dynamite le sample de Love Is Blue (dont on parlait justement là et pas plus tard qu'hier, drôle de coïncidence tout de même !) du tubesque Unorthodox de Peter Project, beatmaker en charge du mix de cette compilation de haute volée :
---
Welcome To Cobra Island en libre téléchargement.

Grandpa Funnybook's Mix​-​Tapingly Arranged Rapping Song Album 3 ! en libre téléchargement.
---
Streaming du jour - 02.09.2013 par
---