On a vécu ce cru 2011 au rythme de leurs sorties aussi attachantes qu'exigeantes, et on les suivra assurément de près l'an prochain : petit tour d'horizon, mené jour après jour par leurs patrons eux-mêmes, de ces labels singuliers qui ont marqué notre année musicale et qu'il ne faudra plus lâcher d'une oreille, si ce n'était déjà le cas.
Si Hand'Solo Records demeure à ce point confidentiel de notre côté de l'Atlantique bien qu'il ait contribué à révéler Sixtoo ou Buck65 avant leur passage par Anticon dès le milieu des années 90, c'est que le label de Toronto a toujours privilégié la qualité à la quantité, et les néons de l'underground aux sunlights des ténors du hip-hop. Pour preuve les trois sorties orchestrées cette année, trois et pas une de plus mais autant d'antidotes à la morosité du genre en 2011, qu'elles soient sombres et urbaines ou plus truculentes et décontractées. Ajoutons à cela toute cette nébuleuse obscure d'autoproduits que le label met peu à peu en lumière, tels que The Garthim-Master et son fantaisiste Ghosts Of Nostalgia ou les projets parallèles des membres du collectif Backburner que constituent notamment Teenburger ou Twin Peaks (l'excellent Ghettosocks étant dans les deux coups) et nous voilà bons pour interviewer Thomas Quinlan, patron d'une écurie qui nous avait déjà gratifiés en 2010 de l'une des sorties hip-hop les plus marquantes de l'année avec le cinglant All That Is d'Hidden Fortress et ne semble pas près de lever le pied en 2012.
---
L'interview
Si vous deviez nous présenter le label en quelques mots, quels seraient-ils ?
Parfois expérimental, parfois asocial, parfois délirant, souvent funky mais toujours hip-hop.
Comment le contexte économique, technologique et/ou culturel a-t-il influencé votre façon de concevoir l'édition musicale ces dernières années ?
Bien qu'il soit plus facile d'acheminer la musique vers un large public dans le monde entier, il est tout aussi facile de l'obtenir gratuitement. Je ne me suis jamais préoccupé de générer d'énormes profits, mais les artistes ont besoin de gagner leur vie, de tourner et d'enregistrer. La question est de trouver un compromis. Téléchargements gratuits, albums numériques pour pas cher par le biais de notre boutique en ligne (ha, Bandcamp !) et des tarifs honnêtes sur les CD pour ceux qui préfèrent encore quelque chose de physique. C'est par le digital que passe le gros des ventes, mais je suis de la vieille école et il m'est impossible de laisser tomber le tangible. Et grâce à la résurgence des usines de production de vinyles avec un produit de qualité, un nouveau projet vinyle de Wordburglar pourrait voir le jour une fois terminé son album 3rdburglar à paraître en CD et numérique. Mais j'ai aussi tiré avantage de plus de débouchés pour les revenus du streaming en ligne.
Sur quels aspects voyez-vous le label évoluer en 2012 ?
Pour continuer dans l'optique de votre précédente question, j'aimerais tirer parti davantage des options de licence disponibles ces temps-ci, pour les films, les jeux vidéo, la télé, les pubs, etc. Et sortir plus de vidéos. Je voudrais aussi que Hand'Solo Records s'investisse plus en profondeur dans la promotion d'autres artistes. Utiliser les connexions mises en place dans le cadre de la promo des artistes Hand'Solo pour aider d'autres musiciens méritants à gagner en visibilité et en couverture médiatique.
Quel artiste du label vous a le plus impressionné cette année, et pourquoi ?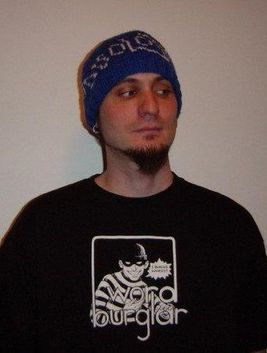 Peut-être que c'est tricher, mais je vais devoir dire que c'est Backburner qui m'a le plus impressionné en 2011. Individuellement, le noyau dur de Backburner a eu une paire d'années phénoménales, avec la sortie cohérente d'un album génial après l'autre, chaque artiste dans son propre style, mais cette année ils ont mis les bouchées doubles, aboutissant à la sortie de leur premier véritable album collectif à la fin de l'été. Heatwave a été dans le top 10 hip-hop du Canadian College pendant neuf semaines consécutives et a été très bien reçu par la critique. La vidéo pour le premier single et morceau-titre va tomber avant la fin de l'année [ndlr : on attend toujours mais ça ne devrait plus trop tarder], et elle est partie pour réchauffer l'hiver. Il me semble facile d'affirmer que Backburner est de loin le meilleur collectif et le plus diversifié du Canada à l'heure actuelle. Et respect à Ghettosocks et Timbuktu pour avoir fait le plus dur en se bookant eux-mêmes une douce tournée à travers le pays.
Un nom à surveiller de près sur le label l'année prochaine ?
Une grande partie de ce qui sort sur Hand'Solo Records n'est pas vraiment planifié à l'avance et selon un délai, par conséquent les plans de ce qui sera publié l'année prochaine sont jusqu'ici plutôt minces. Certains fils sont en train d'être tissés. Le 3rdburglar tant attendu devrait enfin être terminé et sortir au début de l'année, mais les gens doivent déjà suivre Wordburglar de près de toute façon. Je suis aussi excité par la grande probabilité d'un album de Swamp Thing sur Hand'Solo l'année prochaine. Swamp Thing est un projet conceptuel de Timbuktu et Chokeules de Toolshed avec Savilion de Creature Box, un groupe qui avait été signé par Hand'Solo juste avant sa dommageable rupture. Ils étaient vraiment en train de creuser leur sillon, en plus. Le projet Swamp Thing est inspiré par les films de série B, et leur premier single All About The Brains a été divulgué sur notre mixtape exclusive pour la convention Fan Expo, Grandpa Funnybook Presents The Mixtapingly Arranged Rapping Song Album [ndlr : et désormais en téléchargement libre via Bandcamp]. La chanson a reçu de bonnes critiques jusqu'ici, et le reste des démos que j'ai entendues se sont également révélées impressionnantes. Alors n'oubliez pas de surveiller Swamp Thing.
Un dernier disque à écouter avant la fin du monde ?
Pour moi ? The Bassments Of Badmen. Ce fut le premier album à paraître sur Hand'Solo Records, c'est un classique certifié du hip-hop d'Halifax, et c'est toujours ma sortie préférée du label. Avec Buck65, Sixtoo, Hip Club Groove, Tachichi, Jorun... Ce serait probablement génial de le revisiter une dernière fois avant la fin du monde.
---
---
Hand'Solo Records en 2011
Un disque : Backburner - Heatwave
Thomas Quinlan en a déjà beaucoup dit et nous aussi sur ce premier véritable opus du super-crew canadien, attendu comme le messie depuis ses premiers pas en 2001. Dix ans plus tard, l'essai est effectivement transformé par Heatwave, assurément l'un des seuls albums hip-hop de 2011 qui fera date au-delà des bilans branchés de la presse indé.
Un morceau : Backburner - Burn It Down
L'ensoleillé Lifers emmené par Chokeules et Timbuktu dans la mouvance très cool de leur trio Toolshed ayant déjà été cité ici, il nous fallait rétablir la balance en mettant en avant cette fois le côté sombre de ce collectif protéiforme, au sommet de sa verve menaçante en dépit d'un refrain non moins jubilatoire sur ce monument de tension produit par Dexter Doolittle.
Une vidéo : Angerville - Ain't No Thang
Martial et crépusculaire, cet imparable single extrait de Warfare laisse éclater toute la colère et la frustration du duo de Toronto, en guerre contre l'injustice sociale et la médiocrité ambiante entre deux constats plus mélancoliques sur ce cinquième album bipolaire.
Un streaming (du jour) : Toolshed - The Lost
Dans la foulée de leur participation à l'album de Backburner, l'omniprésent rappeur et producteur Timbuktu s'associait de nouveau à Fresh Kils (5 instrus à eux deux sur Heatwave ) et à ses deux compères Chokeules et Psybo au micro pour un cinquième opus aux rondeurs psychédéliques et métissées, quelque part à la croisée des Beastie Boys et des Hieroglyphics.
---
English version :
If you would have to introduce the label in a few words, what would they be ?
Sometimes experimental, sometimes nerdy, sometimes funny, often funky and always hip hop.
How did the economic, technological and/or cultural environment influence your way of thinking about music publishing in the past few years ?
While it's easier to get the music out to a broad worldwide audience, it's also just as easy to get it for free. I've never been concerned with turning huge profits, but the artists need to make a living, to tour and to record. It's a matter of finding a compromise. Free downloads, cheap digital albums through our online store (ha, Bandcamp !) and fair pricing on CDs for those who still like something physical. Digital is where the sales occur, but I'm old school and can't let go of the tangible. And thanks to the resurgence of vinyl production plants with quality product, a new Wordburglar vinyl project could happen once 3rdburglar is finished, that album to be released on CD and digital. But I've also been taking advantage of more outlets for online streaming revenue.
In which ways could the label evolve in 2012 ?
To continue on from your last question, I'd like to take more advantage of the licensing options that are available these days, for movies, video games, tv, commercials, and so on. And more videos. I'd also like to take Hand'Solo Records deeper into promotions for other artists. Use the connections from promoting Hand'Solo artists to help get some press and play for other artists worth helping.
Which artist from the label impressed you the most in 2011, and why ?
Perhaps this is cheating, but I'm going to have to say Backburner has impressed me the most in 2011. Individually the core members of Backburner have been having a phenomenal couple of years with the consistent release of one awesome album after another, each artist on their own style, but this year it's gone into overdrive, culminating in the release of their first real crew album at the end of the summer. Heatwave has been on the Canadian College hip hop top ten for 9 weeks running and has been critically well-received. The video for the first single, and title track, will drop before the end of the year, and is sure to warm up the winter. It's easy for me to say Backburner is the most diverse, best crew in Canada right now, hands down. And props to Ghettosocks and Timbuktu for doing the very difficult and booking themselves a sweet cross-Canada tour.
A name to watch closely on the label next year ?
A lot of what gets released on Hand'Solo Records isn't really planned ahead and given a deadline, so plans for what will be released next year are rather thin so far. Some threads are being weaved. The long-awaited 3rdburglar should finally be finished and released early in the year, but people should already be watching Wordburglar closely anyway. I'm also excited about the very good possibility of a Swamp Thing album on Hand'Solo next year. Swamp Thing is a concept project from Toolshed's Timbuktu and Chokeules with Savilion from Creature Box, a group that was signed to Hand'Solo just prior to their disappointing break up. They were just really getting into their groove, too. The Swamp Thing project is inspired by b-movies, and their first single, All About the Brains, was leaked on our Fan Expo-exclusive mixtape Grandpa Funnybook Presents The Mixtapingly Arranged Rapping Song Album. The song has received good reviews so far, and the rest of the demos I've heard have also been impressive. So watch out for Swamp Thing.
A final record to listen to before the world ends ?
For me ? The Bassments Of Badmen. It was the first album on Hand'Solo Records, it's a certified classic of Halifax hip hop, and it's still my favourite release on the label. With Buck65, Sixtoo, Hip Club Groove, Tachichi, Jorun... It would probably be great to re-visit it one last time before the world ends.
---
Propos recueillis en décembre 2011.
---
Articles - 01.01.2012 par
---