Retrouvez chaque semaine dans nos pages les interviews de quelques-uns des contributeurs à la future compil' Twin Peaks d'IRM. Découvert à l'époque de sa première salve de sorties IDM finement texturées chez Hymen, laquelle après les épopées oniriques tantôt délicates ou noisy de Kolia (2006) et les vacillantes élégies électronica/ambient d'Avutma, culminait en 2010 sur les secousses digitales du génial Artefact saupoudré de shrapnels post-indus et de saturations dronesques, Thomas Pujols explore aujourd'hui des horizons synthétiques percussifs et abstraits entre techno organique et kosmische musik, une mue entamée sur le parfait Cardiac en 2012, pile à la croisée des chemins.
Convoquant le futurisme des années 80 à l'ère d'Autechre, du drone et de la dub-techno, Castles enfonçait le clou l'année suivante avec toujours autant de mélancolie et de dérèglements sous-jacents, puis chez les copains bordelais de Stomoxine, Akzidens en 2014 se faisait plus planant et bricolé, première d'une série de cassettes ouvrant la voie pour les idiosyncrasies oscillatoires à danser sur la tête du bien décalé et déstructuré Zellige et surtout le tribalisme vénusien du non moins étrange mais plus élancé The Safari Suites Vol. II, tout ça l'an dernier sans oublier les pulsations post-modernes et mystiques de Horsenames, premier opus d'une collaboration avec le Berlinois Guy Purssell. Tout ça pour dire qu'on ne savait plus vraiment à quoi s'attendre de la part de Nebulo sur ce coup-là et que c'est peut-être finalement du côté des mutations évanescentes et forcément cinématographique de ses Urbatectures avec Druc Drac aka François Dumeaux - autre pensionnaire de notre compilation dont le morceau VHS est déjà disponible sur notre Vol. 2 - qu'il faut aller chercher les prémices de l'impressionnant 21119 [corsaro 70] offert par le Français à notre projet, parfaite synthèse en 5 minutes de toute une disco qui n'a pas fini de nous fasciner.
---
L'interview
IRM : Comment résumerais-tu ton rapport à Twin Peaks ? A l'univers de Lynch en général ?
Nebulo : Je n'ai regardé cette série qu'il y a juste 6 ans.
Ça m'a vachement plu.
Je connaissais déjà très bien toute la filmographie de Lynch depuis longtemps car plusieurs de ses films m'avaient beaucoup marqué (Blue Velvet, Lost Highway, Mulholland Drive), mais je n'avais jamais osé passer le cap de la série.
En fait, je me suis aperçu que j'étais tombé par hasard, encore enfant, sur un épisode de Twin Peaks chez mes grand-parents et ça m'avait hyper impressionné.
Ce n'est qu'en regardant la série des années plus tard que j'ai su que c'était Twin Peaks.
Le mélange des genres est dingue.
On passe d'un cliché soap opera à un un truc hyper effrayant en très peu de temps, c'est fou, étrange et drôle.
Et ça reste en tête.
C'est une série qui imprègne fort le cerveau.
Ton personnage préféré dans la série ?
Je crois que c'est toujours Cooper qui me vient en tête quand je pense à cette série.
Sa plastique de figurine lisse, sans âge, son sérieux et son humour aussi.
Il est fascinant.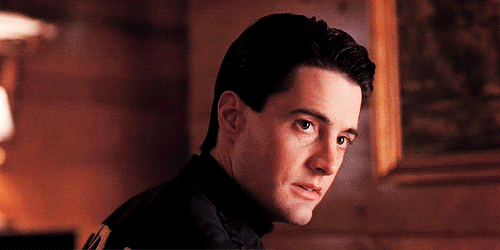 Une scène qui t'a particulièrement touché... ou fait flipper ?
Voir la question n° 1 en préambule.
Mais du coup, c'est quand on voit Bob arriver du fond d'une pièce et enjamber un sofa, en se rapprochant de la caméra.
Je ne sais plus quel âge j'avais, mais j'étais gamin et ça m'a complètement terrifié.
Sinon, le bout de papier sous l'ongle, ça aussi, ça me fait flipper.
Et la Black Lodge... beaucoup d'éléments sont inquiétants...
Tu as enregistré un morceau pour notre future compilation Twin Peaks, quel aspect de la série t'a inspiré ? Toute anecdote est bienvenue !
J'avais pour projet de revoir la série entière pour composer ce titre, mais je ne l'ai finalement pas fait.
Je me suis juste remémoré la série, son atmosphère.
J'ai quand même samplé quelques éléments de la série afin d'avoir un socle, et au final je n'en ai que très peu utilisés, mais on entend Cooper dire "Two one / one one nine" à Diane.
C'est un morceau qui essaie de retranscrire le mystère que m'évoque Twin Peaks.
Tu as eu vent de quelques-uns des musiciens impliqués dans ce projet. Duquel es-tu le plus curieux d'entendre la contribution ?
Je ne connais que très peu des musiciens impliqués, mais je suis curieux d'entendre le travail de Benoît Pioulard et Christopher Bissonnette.
Un album vers lequel tu reviens quand il te faut ta dose de Garmonbozia ?
Je n'ai pas spécialement besoin de Garmonbozia et je n'ai donc pas d'album dédié à ça, mais s'il fallait citer un album pouvant s'apparenter à ça, je choisirais l'excellent Blame de Sister Iodine.
Ton actu 2016, ce fut la cassette The Safari Suites Vol. II chez Seagrave et plus récemment Zellige en décembre chez Phinery Tapes, en cassette toujours. Quelques mots sur ces sorties et sur ce format qui sied particulièrement bien aux sonorités vintage de tes albums récents et que tu privilégies depuis Akzidens ?
La cassette a un coût de fabrication bien moindre que celui d'un vinyle.
Comme ce dernier, elle joue un rôle d'objet fétiche collector.
C'est beaucoup plus accessible et du coup, toute une scène électronique s'est développée autour de ce médium.
Les labels Where to Now ?, Orange Milk, Seagrave, Phinery, Opal Tapes (la liste est longue) ont de très bons catalogues, et ils ont tous commencé avec le format cassette, même si certains sortent maintenant des vinyles.
Le son est vraiment particulier, il y a une compression chaleureuse.
Après, l'important pour moi est de sortir de la musique sur un label qui m'intéresse et qu'ensuite il fasse bien son boulot.
Donc vinyle, CD, cassette, mp3, FLAC, ou autre, tout me va.
C'est la musique qui prime et pas le support.
Des projets sur les rails pour cette année ?
Y'a aussi mon projet collaboratif Queen Kopetzky qui est sorti lui aussi en cassette chez Fort Evil Fruit à la toute fin de décembre.
Et j'ai des bribes de nouvelles pistes ci et là mais il est encore trop tôt pour parler de véritable projet.
---
---
English translation
IRM : How would you describe your relationship with Twin Peaks ? With the work/world of David Lynch in general ?
Nebulo : I only saw the series 6 years ago.
I liked it a lot.
I had known all of Lynch's movies very well for a long time, and several had really impressed me a lot (Blue Velvet, Lost Highway, Mulholland Drive notably), but I'd never dared try the series.
I actually realised I had accidentally viewed one episode one day at my grandparents', and that it had extremely impressed me.
I only realised it was Twin Peaks years later, when I actually watched the series.
The mixing of genres is crazy.
In the course of a few minutes, you can hop from a clichéd soap to something utterly terrifying ; it's crazy, clever and funny.
And it stays in you.
It permeates your brain.
Your favorite character in the series ?
I think Cooper is still the first name that pops up when I think about the series.
His smooth, ageless features ; his seriousness and his humour too.
He's fascinating.
A scene that particularly moved - or scared - you ?
Cf. question #1 for an introduction.
It would be that sequence when you see Bob come forward to the camera from the end of a room and climb over a sofa on his way forward.
I don't remember how old I was, but I was a small kid and it terrified me.
Otherwise, the piece of paper under the nail freaked me out as well.
And the Black Lodge... a lot of details are worrying...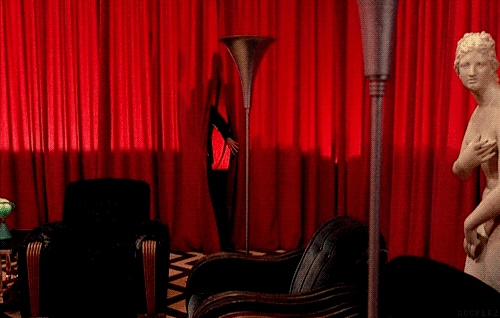 You recorded a track for our forthcoming Twin Peaks compilation, what aspect of the series inspired you ? Any anecdote about that ?
At first I wanted to watch the whole series again before I should write this track, but I finally didn't.
I just recalled the series and its atmosphere.
I still sampled a few elements from the series in order to have a solid basis - which I finally used very little from. You still can hear Cooper tell Diane "Two one / one one nine".
This track is my attempt to transcribe the mystery Twin Peaks evokes for me.
You heard about some of the musicians involved in this project. Which one are you the most curious to hear the contribution from ?
I've only heard of a very few of the artists involved, but I'm eager to listen to what Benoît Pioulard and Christopher Bissonnette have come up with.
An album you often listen to when you need all your Garmonbozia ?
I don't particularly need Garmonbozia, therefore I don't have any album dedicated to this need, but if I had to name one album that's close to the feeling, I'd pick Sister Iodine's excellent LP Blame.
In 2016, you released your tape Safari Suites Vol. II on Seagrave, and, more recently, Zellige on Phinery Tapes. Would you care to share a few words about these releases, and about this format which seems to have had your preference ever since Akzidens and fits quite perfectly the vintage sounds of your recent albums ?
A cassette tape costs much less to make than a vinyl LP.
And it's got the same fetish/collector aura.
It's more accessible, and as a result, a rather important electronic music scene has been developing around the medium.
Record labels like Where to Now ?, Orange Milk, Seagrave, Phinery, Opal Tapes (there's quite a list of them actually) all started on cassette tape format, even if some of them are now releasing vinyl LPs.
The sound on tapes is really peculiar, there's a king of warm compression.
Anyway, what's important to me is releasing music for a label I have an interest in, and for the label to do their job properly.
So, vinyl, CD, cassette tape, mp3, FLAC or whatever, they all suit me.
Music comes first, not the medium.
Any works in progress ?
I've got this collaborative project as well, Queen Kopetzky, which came out at the very end of December on Fort Evil Fruit, also a cassette release.
And I've got scraps of new possibilities here and there but it's way too early now to be mentioning a proper "new project".
---
Un grand merci à Nebulo. Son morceau intitulé 21119 [corsaro 70] paraîtra sur notre compilation Twin Peaks plus tard dans l'année.
---
---