La France devra-t-elle attendre longtemps pour voir la sortie dans l'hexagone du Best Of des Norvégiens de Minor Majority ? Sorti depuis quelques semaines dans le nord de l'Europe, Candy Store - The Best of Minor Majority va-t-il subir le même sort que les splendides albums studio du groupe et attendre plusieurs mois avant d'atterrir dans les bacs des disquaires français ? Encore, heureux que nous sommes de bénéficier du merveilleux travail du label bordelais Vicious Circle qui nous a permis de découvrir, même sur le tard, les merveilleuses compositions dignes de Tindersticks, et qui, à l'instar de leurs compatriotes Kings of Convenience ou Sondre Lerche, méritent largement une reconnaissance mondiale.
Car malheureux sont celles et ceux qui n'ont pas succombé aux morceaux de If I Told You, You Were Beautiful (2002), Up For You And I (2004) Reasons To Hang Around (2006), notamment.
Ce Candy Store , qui remporte un immense succès en se classant en troisième place du Top Album norvégien dès sa sortie, est un double CD composé pour moitié d'un best of, et pour l'autre moitié de "trésors" rescapés de leurs précédents albums.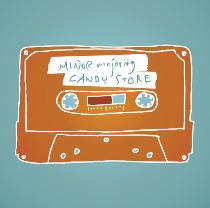 CD1 :
1. Electrolove
2. Dancing In The Backyard
3. This Time
4. (In That) Premature Way
5. As Good As It Gets
6. What I Deserve
7. She Gave Me Away
8. Come Back To Me
9. If I Told You, You Were Beautiful
10. The Dark Half
11. Let The Night Begin
12. Supergirl
13. Wish You´d Hold That Smile
14. Alison
15. Smile At Everyone
16. (Think I´m) Up For You & I
CD2 :
1. Live Your Life As You Look
2. Keep Coming Around
3. Silently Aware
4. The Things You Say
5. Somebody Else´s Baby
6. Now You Play That Song Again
7. I´m OK
8. Candy Store
9. Her Kind Of Guy
10. Don´t Say You Love Me
11. Henry´s Fuck Up
Quelques titres sont disponibles sur leur page Myspace : www.myspace.com/minormajority
Site Officiel : www.minormajority.no