Depuis 2009 et l'immense Dialogue, on avait un peu perdu Thavius Beck. Non pas que l'ex Labwaste ait trop œuvré dans l'ombre et qu'il nous ait semés en route. Tout simplement, qu'il s'agisse de la série d'EPs dansants Amber Embers entre house funky, techno et glitch-hop, de l'inégale mixtape Symphony of the Spheres au lyrisme électro hip-hop émaillé de lourdeurs et de facilités, ou du long-format The Most Beautiful Ugly et son groove hédoniste dégueulassé à l'autotune, rien ne faisait honneur au talent du bonhomme. Autant dire qu'on n'y croyait plus trop sur la durée d'un disque... puis vint notre compil Twin Peaks.
1. Change
2. Spectacular Vernacular
3. Further From The Truth
4. Vices
5. Shots Fired
6. A Day In The Life...
7. Word. Sound. Power.
8. How Many ???
9. Suckas & Sycophants
10. Sh !t's Not G
11. Akhenaten
12. Catharsis
13. Spectacular Vernacular (Mono/Poly Remix)


date de sortie : 18-09-2017
Label : Hit+Run
Sans trop en dévoiler sur le morceau que le Californien a concocté pour notre volume 16 et que vous découvrirez bien assez tôt, il sonnait le début d'une renaissance par sa dimension résolument électrisante et ludique, son fascinant pouvoir d'abstraction, sa tension urbaine entre trap et trance et ses montées en puissance au bord de l'épilepsie. Cette renaissance du beatmaker de Los Angeles, Technol O.G. l'entérine dans la foulée en montant encore d'un degré dans ce futurisme que Dialogue continue d'incarner pour tout un versant électronique et abstrait du hip-hop d'aujourd'hui, sûrement inspiré par la vitalité de Brooklyn, New-York où il s'est récemment installé.
D'entrée, après une intro qui en guise de profession de foi semble déconstruire et réassembler l'héritage de Public Enemy, pionniers de l'expérimentation sonique dans le hip-hop, les deux gros morceaux que sont Spectacular Vernacular et Further From The Truth donnent le ton : hypnotisme techno-dub-hop deep et dark quelque part entre Massive Attack et Captain Murphy pour le premier, rouleau-compresseur glitch maximaliste et dystopique pour le second (remixé en bonus par son héritier du label Brainfeeder, Mono/Poly), difficile de se remettre de ces claques initiales et de toute façon Thavius Beck ne nous en laissera pas le temps. De missives ultra-condensées où des piles d'échantillonnages post-modernes, de vocalises pitchées et d'effets psychotropes entrent en collision à vitesse grand V (Vices, Word. Sound. Power.) en uppercuts rappés à toute allure sur fond de polyrythmies déchaînées (A Day In The Life..., How Many ???) ou de groove synthétique asphyxiant (Shots Fired, Suckas & Sycophants, Sh !t's Not G), Technol O.G. symbolise la déshumanisation paradoxalement grisante des mégapoles modernes et des sociétés virtuelles où tout va trop vite pour vraiment accrocher la rétine et encore moins les neurones, une Catharsis en somme comme en atteste le morceau du même nom en fin de disque, le plus soulful et décontracté du lot malgré le flow toujours aussi véloce du taulier.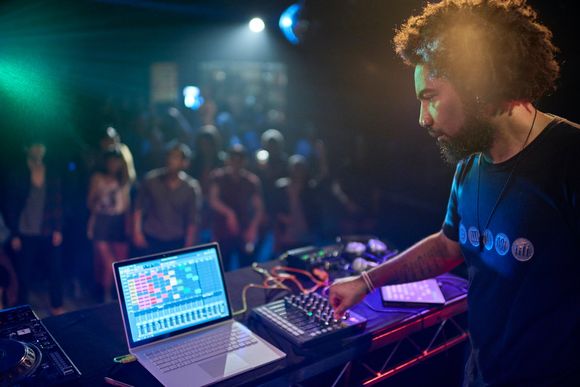 Comparaison forcément évoquée par la drum'n'bass atomique d'Akhenaten, seul l'avenir dira si ce nouvel opus du pharaon du hip-hop post-Ableton jouira dans 20 ans de la même singularité visionnaire que le New Forms de Roni Size aujourd'hui, mais ce qui est certain c'est que du haut de ses petites 28 minutes pleines comme un œuf, il n'a pas fini de nous fasciner.
---
Chroniques - 22.10.2017 par
---