Au rythme où (ne) se révèle (pas) le tant attendu second album des Avalanches censé être en cours de finition depuis plus de trois ans - mais vraisemblablement terminé pour de bon à en juger par un message posté en juin sur le forum officiel du groupe et révélant l'enregistrement de pistes vocales avec le freak de la pop californienne Ariel Pink comme cerise sur le gâteau -, on risque d'en user des prétendants au trône des Australiens. Et finalement ça tombe plutôt bien puisque qu'en termes de collages électro virtuoses et de samples rétro féériques l'été 2010 nous réserve de bien belles surprises.
Pour Organ Morgan ça commence sur Soundcloud avec le titre Scent Of Rainy Pavements qui recycle joliment un sample bien connu des amateurs des Avalanches, tiens donc. Ça se poursuit sur myspace avec les trois morceaux de l'EP Cocaine Afternoon daté de l'an dernier, du mashup enchanteur comme on aime où l'on peut même entendre les merveilleux arpèges du Crepuscolo Sul Mare de Piero Umiliani (sur Broken Heart). Le gallois Matthew Mayes a plus d'un tour dans sa manche et une collection de vinyles à la hauteur de ses ambitions, en l'occurrence pondre un album de 26 morceaux, un pour chaque lettre de l'alphabet, ou encore mimer les choeurs d'un entier village africain à lui tout seul. Aux dernières nouvelles, la lettre P croiserait à peu près 30 genres musicaux, et l'album plus de 800 samples. Pour patienter jusqu'à une éventuelle date de sortie, une Garden Party Mixtape de plus de 4 heures vous attend ici en libre téléchargement.
Blue Sky Black Death ensuite on en parlait ici, de quoi rafraîchir nos plus chaudes soirées d'été ou carrément les enflammer, c'est au choix, en attendant le décollage pour l'espace du duo californien prévu pour le 7 septembre avec Alexander Chen de Boy In Static en passager VIP.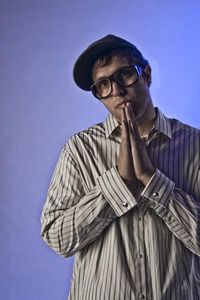 Et si la magie opère si bien lorsqu'un certain Alignment s'amuse à fusionner la musique de Derek Vincent Smith (photo) avec celle de nos deux amis Kingston et Young God précédemment cités sur un bootleg sobrement intitulé Blue Sky Black Death vs. Pretty Lights (google est votre ami), c'est qu'il y a du génie dans l'air d'un côté comme de l'autre, et une sacrée fraîcheur aussi. Aperçu outre-Manche en première partie de DJ Shadow, le natif du Colorado habitué des festivals outre-Atlantique où il rencontre déjà un beau succès d'estime doit son pseudo, pour l'anecdote, au flyer d'un concert donné par les Pink Floyd et les Who pour le passage à cette fameuse année 67 qui allait marquer en bien des points l'histoire de la musique. L'esprit rock alors, Pretty Lights ? Que nenni, de l'abstract/soul à la RJD2 de Taking Up Your Precious Time en 2006 aux breakbeats électro un brin chillout de Passing By Behind Your Eyes en passant par le gargantuesque Filling Up The City Skies de 2008 et ses deux CD - le premier vibrant et coloré de samples old school savamment triturés à l'image de la voix de Liz Fraser (qui elle même reprenait Chic) sur le fabuleux At Last I Am Free, le second plus orienté dancefloor entre beats synthétiques hachés menus et réminiscences hip-hop - regorgeant de pépites dont une fausse relecture du Two Hearts In 3/4 Time des... Avalanches, on pense plutôt à un croisement entre Prefuse 73 et Bonobo, mais après les deux EP (d'une série de trois prévus) assénés coup sur coup cette année dont le second Spilling Over Every Side sorti fin juillet et comptant près de trois-quarts d'heure d'envolées épiques hantées par des fantômes soul perdus dans "un futur en constant changement", on ne voit guère que Take pour soutenir la comparaison. Ah oui au fait, une précision de taille : le bonhomme gère son propre label et offre toute sa discographie au téléchargement ici.
Colorado toujours pour Michal Menert débarqué de sa Pologne natale, co-producteur pour Derek Vincent Smith devenu en quelque sorte son protégé puisque c'est via Pretty Lights Music et sur le même site que l'on peut découvrir en libre téléchargement le foisonnant Dreaming Of A Bigger Life, une autre idée du futur aux airs de spatio-funk analogique recomposé au laptop.
Herma Puma là c'est que du bonus, un duo transatlantique plus orienté hip-hop, instrumental ou non : au programme, kaléidoscope psychédélique façon Prince Paul et coolitude cosmique à la A Tribe Called Quest. "There's magic in the air tonight, strange attractions" entend-on sur un sample de l'album Synchromystic en libre écoute sur bandcamp, et on ne peut que confirmer. Quelques invités au micro également, dont Green T d'A.S.M, trio germano-anglo-canadien repéré chez Wax Tailor et omniprésent cette année, du gracieux Music For Imaginary Movies de Berry Weight dont l'abstract jazzy et aérien aurait très bien pu figurer ici à force de scratches équilibristes et autres arrangements éthérés, au Fantastic Planet de La Fine Equipe (avec Mattic) quelque part entre Madlib et War Tailor (hop une mixtape en bonus sur des beats de Jneiro Jarel aka Dr. Who Dat ? et hip, une autre de leur premier opus La Boulangerie ) en passant par leur propre Platypus Funk ressuscitant l'esprit de Jurassic 5 dans la mouvance du revival jazz-hop initié par les Jazz Liberatorz (avec Wax Tailor et Berry Weight donc mais aussi... Bonobo en intervenants de luxe derrière les manettes). Mais on s'égare.
Il est donc grand temps de terminer sur notre chouchou hollandais, car sampler Satie, le monologue d'Ellen Burstyn dans Requiem For A Dream et la BO de Rocky sur un même EP il fallait oser, c'était 19/76 en 2008 (ou le contraire ?.. on s'y perdrait). Des mois que son Through Windows, offert là encore, tourne en boucle sur nos platines et il n'est pas près de s'essouffler tant Crookram a su insuffler autant d'élégance que de légèreté dans ces morceaux cinématiques aussi groovesques que désarmants, passez-donc la tête par la fenêtre et c'est le décollage garanti :
"Et la folie douce des Avalanches dans tout ça ?" nous rétorqueront les grincheux en manque d'extravagance. Mais après tout si les Australiens n'étaient pas uniques en leur(s) genre(s), pourquoi donc attendrait-on si fébrilement le successeur de Since I Left You ?