Retrouvez chaque semaine dans nos pages les interviews de quelques-uns des contributeurs à la future compil' Twin Peaks d'IRM. Moins stakhanoviste qu'à l'accoutumée, l'Ukrainien Andrey Symonovych découvert du temps de l'hégémonie du label Tympanik Audio en matière d'IDM futuriste et mélancolique via des sorties chez ces derniers mais aussi chez Raumklang Music, Abstrakt Reflections ou encore son propre label Someone Records, nous a tout particulièrement fait plaisir en laissant cette idée de tribute lynchien l'influencer de façon inattendue.
Le beatmaker de Kiev, apprécié depuis une demi-douzaine d'années dans nos pages pour son IDM mâtinée de musique classique, de piano spleenétique et autres samples baroques (et déjà croisé sur la gargantuesque compilation Transmissions from the Heart of Darkness de nos confrères de DCALC), travaille en effet sur un EP "dark jazz" dans la continuité du morceau Fire Walk With Me offert à notre projet et qui surprendra vraisemblablement plus d'un aficionado de ses sorties électroniques. Dernière en date, Shilly-Shally devrait par contre contenter ces derniers avec ses grands écarts entre racines warpiennes 90s, techno ludique et arrangements dépressifs sur fond de ces atmosphères claires-obscures qu'on lui connaît.

---
L'interview
IRM : Comment résumerais-tu ton rapport à Twin Peaks ? A l'univers de Lynch en général ?
r.roo : Salut. J'ai connu Twin Peaks grâce à ma copine, elle me l'a fait regarder. De toute évidence, je lui en suis très reconnaissant.
Le premier film de Lynch pour moi fut Mulholland Drive. J'ai été imprégné par son atmosphère et la façon dont David révèle ce qui se passe par le prisme de rêves mystiques. A chaque nouveau film que j'ai regardé, j'ai été de plus en plus immergé dans son univers. Inland Empire est mon préféré. Il me semble que c'est l'apogée de la philosophie cinématographique de David Lynch.
Ton personnage préféré dans la série ?
J'aime vraiment Audrey. Son père aussi est magnifique. La Dame à la Bûche - personnage très intéressant. Eh puis Dale Cooper, évidemment.
Une scène qui t'a particulièrement touché... ou fait flipper ?
J'ai toujours beaucoup aimé tout ce qui arrive dans la Loge Noire. Les actions inversées et le sens rituel de ce qui s'y passe. Ou cette scène amusante quand Audrey se promène dans l'hôtel à son propre rythme nonchalant. Beaucoup de scènes m'ont marqué. (sourire)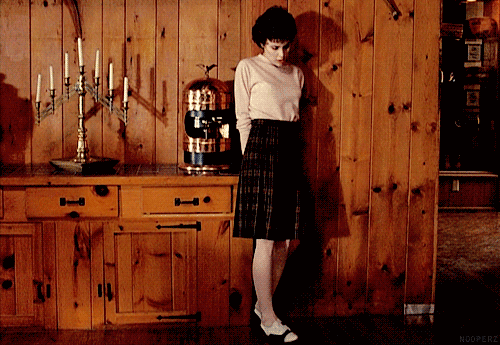 Tu as enregistré un morceau pour notre future compilation Twin Peaks, quel aspect de la série t'a inspiré ?
Quand j'ai commencé à composer le morceau, j'ai d'abord été inspiré par l'atmosphère du One-Eyed Jack's. Maintenant, il me semble que le morceau véhicule plutôt l'atmosphère enveloppante de la forêt autour de la Loge Noire.
Tu as eu vent de quelques-uns des musiciens impliqués dans ce projet. Duquel es-tu le plus curieux d'entendre la contribution ?
Ça devrait être intéressant d'écouter le morceau de Ochre, j'ai vraiment aimé son nouvel album.
Un album vers lequel tu reviens quand il te faut ta dose de Garmonbozia ?
Il y en a beaucoup. J'en nommerai quelques-uns parmi ceux écoutés récemment - Ab Ovo : Empreintes (2005), Substanz-T : Beyond E (2007), Poordream : Ninetynine (2014). J'ai entendu l'album de Dreissk publié cette année [To Nowhere, sorti chez n5MD, ndlr]. La meilleure chose qui me soit arrivée récemment. En particulier le morceau Skyward.
Tu viens de sortir chez Audiotrauma l'album Shilly​-Shally au beats deep et aux atmosphères étonnamment variées, entre techno, dub et IDM old school, et tu nous parlais d'un EP dark jazz dans la veine du morceau composé pour notre compilation. Est-ce toujours d'actualité ? D'autres projets sur les rails ?
Oui, l'EP dark jazz est déjà en chemin. Je pense qu'il sortira en juin. Du jazz ténébreux avec des éléments néoclassiques. (sourire) En parallèle je prépare mon nouvel album, il sera ambient et mélancolique. J'ai beaucoup de projets, mais chaque chose en son temps.
---
---
Original english version
IRM : How would you describe your relationship with Twin Peaks ? With the work/world of David Lynch in general ?
r.roo : Hello. I met with Twin Peaks because of my girlfriend, she made me watch it. For which I'm certainly very grateful to her.
The first Lynch movie for me was Mulholland Drive. I was imbued with its atmosphere and how David reveals what is happening through the prism of mystic dreams. With every new movie I watched, I was more and more immersed in his world. Inland Empire is my favorite film. It seems to me that this is the apogee of the cinematic philosophy of David Lynch.
Your favorite character in the series ?
I really like Audrey. Her father is also gorgeous. Woman with the Log - very interesting character. Well, Dale Cooper, you know.
A scene that particularly moved - or scared - you ?
I always really liked everything that happened in the Black Wigwam [editor's note : the common appellation of the Black Lodge in Russian]. Reverse actions and a sense of rituality of what is happening. Or funny scene when Audrey walks by the hotel in her own wavelength. I can remember a lot of scenes. (smile)
You recorded a track for our forthcoming Twin Peaks compilation, what aspect of the series inspired you ?
When I started to write the track, I was initially inspired by the atmosphere that was in One-Eyed Jack's. Now it seems to me, the track rather conveys the surrounding atmosphere of the forest around the Black Wigwam.
You heard about some of the musicians involved in this project. Which one are you the most curious to hear the contribution from ?
It's interesting to hear the track by Ochre, I really liked his new album.
An album you often listen to when you need all your Garmonbozia ?
A lot of them. I will name a few of those that I listened to recently - Ab Ovo : Empreintes (2005), Substanz-T : Beyond E (2007), Poordream : Ninetynine (2014). I heard the album from Dreissk, which was released this year [editor's note : To Nowhere, out on n5MD]. This is the best thing that has happened to me lately. Especially the track Skyward.
Audiotrauma just released your new album Shilly-Shally, a suprisingly diverse collection going from deep techno to dub through old school IDM. You also told us about a dark jazz oriented EP you've been working on, comparable in sound with the track you recorded for our Twin Peaks compilation. Can you tell us more about all that ? Some other projects on the way ?
Yep, the dark jazz EP is already on its way. I think that in June it will be released. Dark jazz with neoclassic elements. (smile) I'm doing the material for the new album in parallel, it's ambient and melancholy. There are many plans, but everything has its time.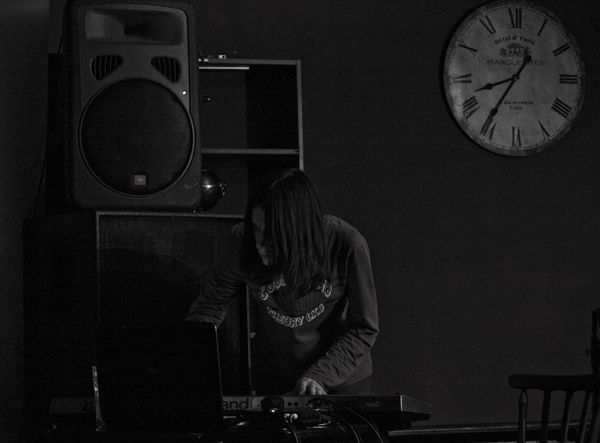 ---
Un grand merci à r.roo. Son morceau intitulé Fire Walk With Me paraîtra sur notre compilation Twin Peaks plus tard dans l'année.
---
---