Jusqu'ici parfaite anomalie de la major Atlantic, filiale pop-rock de Warner, Portugal. The Man perd l'équilibre entre idiosyncrasie et perversion du mainstream sur ce 8e long-format trop racoleur et boursoufflé pour faire honneur aux faits d'armes passés du combo le plus audacieux du paysage radiophonique américain contemporain et aux doigts d'or de son excentrique moustachu de leader, le guitariste et songwriter John Gourley.
1. Number One (feat. Richie Havens & Son Little)
2. Easy Tiger
3. Live in the Moment
4. Feel It Still


5. Rich Friends
6. Keep On
7. So Young
8. Mr. Lonely (feat. Fat Lip)
9. Tidal Wave
10. Noise Pollution (feat. Mary Elizabeth Winstead & Zoe Manville)

date de sortie : 16-06-2017
Label : Atlantic Records
Des hymnes indie rock épiques et métissés à grand renfort de beats et de synthés de Waiter : "You Vultures !" au psyché-prog aérien d'un Censored Colors flirtant dans ses plus beaux moments choraux et orchestrés avec les envolées racées de Spiritualized ou des Guillemots des débuts, en passant par les cantiques blues-rock heavy et percutants de Church Mouth ou l'électro-pop onirique de l'EP It's Complicated Being a Wizard, John Gourley et sa bande d'allumés du sud de l'Alaska via Portland auraient pu continuer longtemps à louvoyer entre petit succès indé et estime critique.
Et pourtant, l'équilibre parfait entre mixtures audacieuses et mélodies instantanées du génial The Satanic Satanist en 2009, son entrée au Billboard et la signature avec Atlantic qui suivra la publication du digne successeur American Ghetto l'année d'après en auront décidé autrement : c'est en flirtant un peu plus à chaque sortie avec une pop mainstream de qualité que les Ricains continuent désormais de décliner leur goût du glamour ironique et mélangeur, au risque du pas de côté qui les fera tomber du fil de funambule que ces héritiers des Dandy Warhols de la grande époque faisaient déjà dangereusement trembler il y a 4 ans sur le néanmoins excellent Evil Friends, entre glam funky du côté obscur et tentation grandiloquente - à l'opposé du plus rétro et classieusement rondelet In The Mountain In The Cloud précédent.
Résultat, Woodstock est la première déception du combo à ce jour : on a beau prendre notre pied sur l'imparable Feel It Still, dont le saxo 80s bien dégueulasse en soi et même les discrets accents vocodés participent du charme faussement rétro et vraiment post-moderne de ce tube aux inattendues 8 millions de vues sur youtube, quelque part entre les Kinks, Gainsbourg, la Motown et Beyoncé, le reste s'avère nettement plus inégal voire un brin crispant sur les bords, du gloubi-boulga radio-friendly des refrains d'un Easy Tiger à la production surchargée jusqu'à un Tidal Wave qui défie - et certes défait mais sans trop de gloire il faut bien l'admettre - Katy Perry sur son propre terrain.
Force est de reconnaître à Portugal. The Man une ambition louable de pervertir la FM avec ses propres armes, en témoigne le final Noise Pollution et ses lyrics aux airs de déclaration d'intention ("Broke out the institution / got lost in the confusion / not mad, man, I'm a big fan / I love that noise pollution"), un morceau dont on se surprend presque à fredonner le refrain exagérément racoleur en dépit de ses horribles incursions en français et d'un chant féminin à gerber, c'est dire le talent de mélodiste de Gourley qui continue d'affleurer sur les couplets de Rich Friends ou du très bon Keep On à la croisée du Blur de l'éponyme et des voisins Dandy Warhols de Welcome to the Monkey House, et surtout sur le refrain désarmant de So Young, cousin consanguin pas encore trop dégénéré des Some Men et autre The Sun.
Mais voilà, du lourdaud Number One d'ouverture à un Mr. Lonely qui oscille entre le touchant, le sirupeux et l'irritant avec un Fatlip en petite forme qui ne fait pas vraiment honneur aux évidentes inspirations hip-hop d'American Ghetto, sans oublier l'insipide Live in the Moment qui ne dépareillerait guère sur NRJ, il n'y a pas grand chose d'autre à sauver sur Woodstock, paradoxalement l'album le moins libertaire de la formation en dépit de sa référence au festival émancipateur par excellence. Une baisse de régime que l'on espère passagère au regard d'une disco qui restait jusqu'ici sans faux pas malgré ses nombreux tours, détours et paradoxes, temporels ou culturels comme éthiques (rappelons à ce titre que le groupe, signé sur une major, défend toujours ardemment le libre partage de sa musique, y compris illégalement).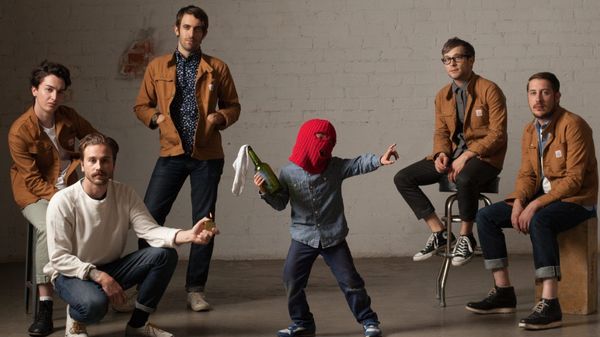 ---
Chroniques - 17.07.2017 par
---