Il y a deux types de tribute albums : ceux qui ont pour seul but de rendre hommage à un artiste ou un groupe dont on peut ainsi mesurer l'influence sur les générations qui l'ont suivi ; et ceux pour qui cette préoccupation se double d'un objectif caritatif. L'actualité récente nous fournit un exemple de chaque.
La bonne action d'abord, avec Ciao My Shining Star : The Songs Of Mark Mulcahy qui paraîtra fin septembre chez Shout ! Factory. Ancien chanteur de Miracle Legion, Mark Mulcahy poursuit une carrière solo discrète mais qui lui vaut l'accolade de confrères aussi divers que Black Francis, Thom Yorke ou encore Michael Stipe. Tous trois sont présents, auprès de beaucoup d'autres et non des moindres, sur cette compilation destinée à donner un coup de main au pauvre Mulcahy qui, suite à la mort de sa femme, se retrouve seul pour élever ses deux petites filles.
Au menu de cette compil :
1. Thom Yorke - All for the Best
2. The National - Ashamed of the Story I Told
3. Michael Stipe - Everything's Coming Undone
4. David Berkeley - Love's the Only Thing That Shuts Me Up
5. Dinosaur Jr. - The Backyard
6. Chris Harford and Mr. Ray Neal - Micon the Icon
7. Frank Black - Bill Jocko
8. Vic Chesnutt - Little Man
9. Unbelievable Truth - Ciao My Shining Star
10. Butterflies of Love - I Have Patience
11. Chris Collingwood (Fountains of Wayne) - Cookie Jar
12. Frank Turner - The Quiet One
13. Rocket From the Tombs - In Pursuit of Your Happiness
14. Ben Kweller - Wake Up Whispering
15. Josh Rouse - I Woke Up in the Mayflower
16. Autumn Defense - Paradise
17. Hayden - Happy Birthday Yesterday
18. Juliana Hatfield - We're Not in Charleston Anymore
19. Mercury Rev - Sailors and Animals
20. Elvis Perkins - She Watches Over Me
21. Sean Watkins - A World Away From This One
---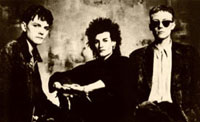 Moins généreux mais pas forcément moins intéressant, New Tales to Tell est un hommage à Love And Rockets, groupe formé au milieu des années 80 sur les cendres de Bauhaus. Moins de têtes connues au programme, bien que l'on retrouve ici l'infatigable Black Francis. Il côtoie ici les Dandy Warhols et les Flaming Lips, mais aussi A Place To Bury Strangers et Puscifer (alias Maynard J. Keenan de Tool).
Cette compilation est annoncée pour le 18 août chez Justice Records.