Marchant dans une prairie d'herbes hautes et folles, on a longtemps cru que les lyonnais de She Demons seraient les premiers à dégainer leur album. C'était sans compter sur la vivacité des américains de Electric Tickle Machine.
Et oui, le 29 juin est annoncée la sortie de Blew It Again. L'album avait déjà bénéficié d'une sortie en vinyle et en édition limitée en octobre dernier, mais out of stock depuis bien longtemps. Du coup, ils ont monté leur label, Science Diction, et les voilà fin prêts à répondre à la demande. Pourquoi cet engouement ?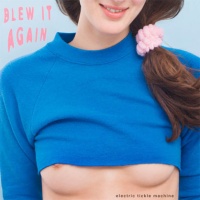 Prenez quatre garçons un brin déjantés, finissez à poil lors d'un concert dès 2008, osez une pochette (ci-contre) avec un pull peut-être pas à la bonne taille, et servez des morceaux : Honest Injun et ses faux airs de Black Francis, Gimme Money et sa rythmique à la Archie Bronson Outfit, le superbe Ask Me Anyhting - tous ceux là sont actuellement disponibles sur leur myspace - il n'en faut pas plus pour attiser notre curiosité.
Au final, le Part Of Me offert en mp3 sur le site officiel parait presque fade, surtout depuis la sortie du clip Bones, autre morceau du groupe qui démontre une énergie et un talent mélodique imparables.
---
---