Mixed Blood Majority, c'est son nom et ça n'est rien d'autre que la nouvelle collaboration entre Crescent Moon (MC des cultissimes Kill the Vultures et de Numbers Not Names), Joe Horton (MC des très bons No Bird Sing) et Lazerbeak (DJ du collectif Doomtree)...
Cette année, Joe Horton et Crescent Moon (ainsi que Kristoff Krane) avaient déjà travaillé ensemble pour former F to I to X, mais là avec l'arrivée de Lazerbeak le truc sent le bonheur à plein nez... En gros, Mixed Blood Majority c'est le super-groupe réunissant tout un pan de la fine fleur du hip-hop underground américain !
Après un seul et unique concert ayant eu lieu de 3 novembre dernier, un album est prévu pour janvier 2013, alors hauts les cœurs !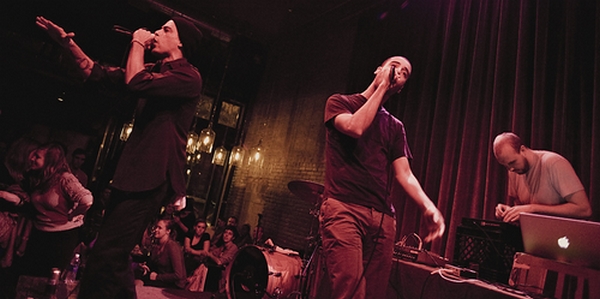 Pour patienter jusque là et parce qu'on n'est pas comme ça chez IRM, voilà Fine Print, un premier single carrément bon tiré de ce futur opus, Crescent Moon et Joe Horton s'accordent parfaitement et rappent sur les frustrations, la fatigue et la défiance qu'engendrent la monde moderne. Quant à Lazerbeak, il claque des beats lourdement sublimes, ça promet !