Retrouvez chaque semaine dans nos pages les interviews de quelques-uns des contributeurs à la future compil' Twin Peaks d'IRM. Aujourd'hui, c'est Damien Miller, le nouveau boss d'I Had An Accident Records, qui y va de ses impressions sur la série culte de David Lynch et Mark Frost.
En photo ci-contre avec sa maman (ça quand même, c'est beau), et plus bas au milieu du crew abstract/noise des Tenshun, Egadz, Psychopop, John Pain et autre Corbo qui ont fait d'IHAA leur terrain de jeu depuis son entrée en fonction, Damien avait une sacrée responsabilité en acceptant de prendre la suite de l'excellent Justin Bieler aux manettes d'une structure sacrée plusieurs fois d'affilée meilleur label de l'univers par la rédaction d'IRM. Un pari réussi haut la main, cf. ici et cf. aussi le line-up de notre compil Twin Peaks où l'on retrouvera outre l'intéressé de nombreux pensionnaires du label, à commencer par Uncommon Nasa dont le morceau s'écoute déjà par là ou encore notre interviewé numéro 50 à venir avec une surprise mais ça, c'est pour plus tard, en attendant donc, place à l'interview !
---
L'interview
IRM : Comment résumerais-tu ton rapport à Twin Peaks ? A l'univers de Lynch en général ?
Damien : Je me souviens d'avoir vu Twin Peaks au lycée quand j'étais jeune, mais honnêtement je ne me souviens pas de grand chose, j'étais sûrement trop défoncé pour me rappeler de quoi que ce soit. En fait, j'ai dû regarder la série à nouveau en guise de rattrapage. J'apprécie David Lynch, j'admire sa créativité et ses productions obscures. Je crois que c'est ce qui m'attire le plus dans ce qu'il fait.
Ton personnage préféré dans la série ?
Je pense que l'adjoint Andy est mon préféré.
Une scène qui t'a particulièrement touché... ou fait flipper ?
Quand Sarah Palmer perd la tête, et qu'elle a une vision ou une hallucination de l'homme dans sa maison (Bob), avant même que nous sachions qui il est.
Tu as enregistré un morceau pour notre future compilation Twin Peaks, quel aspect de la série t'a inspiré ?
Pour être honnête, simplement faire partie du projet et le fait qu'il soit associé à Twin Peaks, voilà ce qui m'a inspiré.
Tu as eu vent de quelques-uns des musiciens impliqués dans ce projet. Duquel es-tu le plus curieux d'entendre la contribution ?
Sincèrement je suis curieux de les entendre tous, mais spécialement celui d'Egadz.
Un album vers lequel tu reviens quand il te faut ta dose de Garmonbozia ?
N'importe quoi de lourd.
Ton actu 2016, ce fut deux EPs d'abstract hip-hop noisy avec de gros bouts de batterie libertaire, l'un avec Tenshun et l'autre en solo particulièrement apprécié à la rédaction d'IRM. Quelques mots à ce propos et sur l'orientation générale du label I Had An Accident Records, penché vers le même genre de drumming saturé en roue libre depuis que tu en as repris les rênes à Justin Bieler au printemps dernier ?
Mec, travailler avec Tenshun ça a été incroyable, j'ai pu le rencontrer, ainsi que David (Psychopop), Egadz, John Pain et Corbo quand ils sont venus faire un concert ici à Spokane. Tous des types incroyables et des musiciens incroyables, ce fut une bénédiction de les voir jouer et de devenir ami avec eux. C'est essentiellement à cette occasion que nous avons parlé de faire le projet Split-Brain. J'ai également pu travailler avec David (Psychopop) sur une sortie du nom d'Audio Dilusionz. Ces mecs-là m'ont inspiré pour continuer de créer et d'aller de l'avant avec ma musique. Axe II est un autoproduit que j'ai voulu faire juste pour avoir un projet solo.
Sur la direction du label, quand j'ai repris les rênes, Justin m'a dit une chose qui m'est vraiment restée : sors un album si tu l'aimes. Le cadeau qu'il m'a fait est incroyable, ça m'a ouvert tellement de portes, j'ai pu travailler avec Maticulous, Uncommon Nasa (et d'autres artistes comme Skrapez, Bonzo Speechless, pour n'en citer que quelques-uns), et je bosse en ce moment sur une sortie de CCRRCCSSLLRRKKRRSS, et puis nous avons un 7" de Bongchops sur les rails. Je n'ai pas vraiment de direction "spécifique" en ce qui concerne le label, je veux juste continuer à sortir de la bonne musique, à rencontrer des musiciens géniaux et à travailler avec eux. Les drums sont un gros plus, ceci dit ! Honnêtement, si Justin ne m'avait pas aidé avec mon tout premier EP Self Medicating, probablement rien de tout ça ne serait arrivé.
---
---
Original english version
IRM : How would you describe your relationship with Twin Peaks ? With the work/world of David Lynch in general ?
Damien : I remember watching Twin Peaks when I was younger in high school, honestly I didn't remember much, I think I was to stoned to remember ? I actually had to watch it again to catch up. I appreciate David Lynch, and admire his creativity and obscure type of production. I believe this is why I am attracted to his stuff.
Your favorite character in the series ?
I think Deputy Andy is my favorite.
A scene that particularly moved - or scared - you ?
When Sarah Palmer is losing her mind, and she has a vision or hallucination of the man in her house (Bob), before we know whom he is.
You recorded a track for our forthcoming Twin Peaks compilation, what aspect of the series inspired you ?
I think, to be honest just being part of the project, and it being associated to Twin Peaks is what inspired me.
You heard about some of the musicians involved in this project. Which one are you the most curious to hear the contribution from ?
I'm curious to hear all of them to be honest, but Egadz especially.
An album you often listen to when you need all your Garmonbozia ?
Anything loud.
In 2016 you released two EPs of noisy abstract beats with real wild drums inside, one of them with Tenshun and the other one, our favourite, on your own. A few words about them, and on the direction chosen for I Had An Accident Records, particularly inclined towards that kind of free drumming since you took over the label from Justin Bieler last spring ?
Man, to work with Tenshun was amazing, I was able to meet him, David (Psychopop), Egadz, John Pain, and Corbo when they came up to do a show here in Spokane. All amazing people, and musicians, was a blessing to watch them perform, and befriend them. That is basically when we discussed doing the Split-Brain project. I also was able to work with David (Psychopop) on a release called Audio Dilusionz. These guys inspired me to keep creating, and moving forward with my music. Axis II that was a self-release I wanted to produce just to have a solo project.
The direction of the label, when I took it over, Justin said one thing to me that really stuck with me, release it if you like it. The gift that he gave me is amazing, it has opened up so many doors, I have worked with Maticulous, Uncommon Nasa (and other artists like Skrapez, Bonzo Speechless, just to name a few), and am currently working on putting out a CCRRCCSSLLRRKKRRSS release, and we have a Bongchops 7" in the works. I have no "specific" direction in taking the label, I just want to keep putting good music out there, and continue to meet and work with amazing artists. Drums are a big plus though ! Honestly if it wasn't for Justin, helping me with my very first EP Self Medicating, none of this would have probably happened.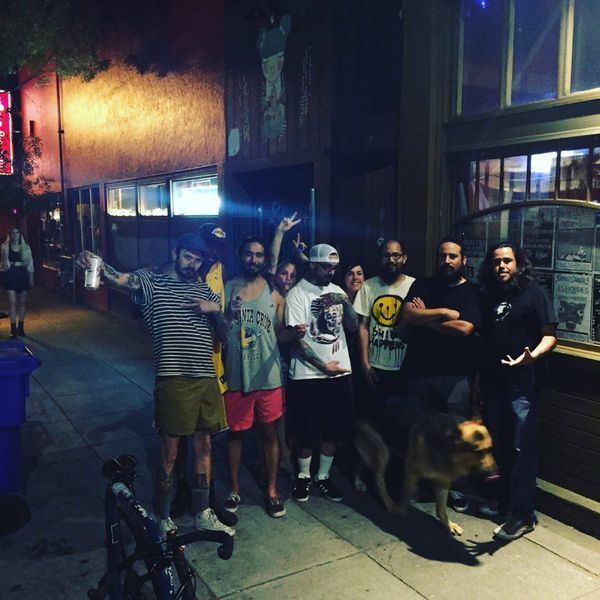 ---
Un grand merci à Damien Miller. Son morceau intitulé Dysthymia paraîtra sur notre compilation Twin Peaks au printemps.
---
---