Vieillissement, doute, faux-semblants... autant de thèmes qui s'entremêlent et influencent les compositions même de ce nouvel opus de David Grubbs, disque cyclothymique dont le blues électrique au bord de l'extinction semble contempler la Mesa de sa propre existence, ce plateau aride entouré d'un vide qu'il a lui-même creusé, hésitant à remplir le silence avant de choisir la vie puis de se rétracter, le cerveau incertain de ce que le corps veut... ou peut encore.
1. The Plain Where The Palace Stood
2. I Started To Live When My Barber Died
3. Ornamental Hermit
4. First Salutation
5. Super-Adequate
6. Second Salutation
7. The Hesitation Waltz
8. A View Of The Mesa
9. Abracadabrant
10. Fugitive Colors
11. Third Salutation

date de sortie : 15-04-2013
Label : Drag City
Ainsi, celui dont on vantait "le chant éternellement jeune et émerveillé" dans notre chronique de l'indémodable A Guess At The Riddle apparaît désillusionné au micro du dépouillé I Started To Live When My Barber Died, prétendant ne pas être astreint à la course du temps pour mieux se raviser et conclure dans un souffle ébahi, "j'ai vieilli"... comme s'il en était le premier surpris sans être pour autant déçu du constat.
Passé le morceau-titre, sa guitare métronome et les digressions frénétiques de sa flûte affolée, exit donc le genre d'envolées libertaires qu'assurait aux fûts le génial Adam Pierce (Mice Parade) sur A Guess At The Ridle ou les rythmiques en flux tendu des morceaux les plus frontaux de Rickets & Scurvy. Résolument introspectif et en quête d'identité, The Plain Where The Palace Stood s'inscrit davantage dans la continuité plus tâtonnante et lunatique de son prédécesseur An Optimist Notes The Dusk ou des premiers Gastr Del Sol mais avec l'ambition d'un Camoufleur, ultime chef-d'œuvre de ces derniers dont la musique de têtes chercheuses œuvrait déjà hors de tout sentier balisé avec l'appui de Jim O'Rourke et Markus Popp (Oval), quelque part entre post-rock impressionniste, americana en cinémascope, jazz ambient et pop d'avant-garde.
Une ambition tout sauf ostentatoire néanmoins, et si The Plain Where The Palace Stood est très certainement ce qui se rapproche le plus d'un album "pop" de David Grubbs depuis longtemps au regard des projets menés par l'Américain durant la dernière décennie (collaborations ambient et sonorisations abstraites d'installations contemporaines en tête), c'est un album "pop" sans accroches évidentes ni structures répétés, sans couplets/refrains voire même sans chansons le plus clair du temps. Sans cesse en construction / repli / reconstruction, valse hésitation des mélodies tutoyant le silence (Second Salutation), titillant l'atonalité (The Hesitation Waltz), flirtant avec la dissonance (A View Of The Mesa), accrochant la lumière pour mieux la laisser s'échapper au détour d'un accord fatigué (Ornamental Hermit), valse hésitation des influences aussi qui vont du math-rock (Super-Adequate) à la musique tribale (First Salutation) en passant par le free jazz et le drone (fabuleux Third Salutation) sans que l'album ne ressemble jamais à autre chose qu'à lui-même.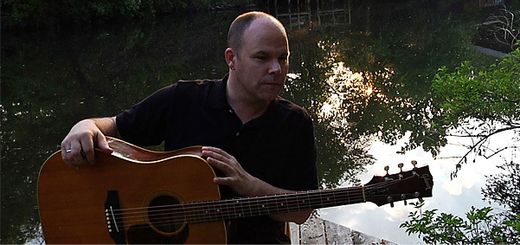 Le disque d'un homme accompli, en somme, avec ses éclairs de génie et ses questionnements, sa générosité et ses appréhensions, son charisme et sa solitude, son apparente transparence et cette complexité sous-jacente qui rend à jamais sa vérité fascinante et hors de portée.
---
The Plain Where The Palace Stood s'écoute en avant-première chez Pitchfork jusqu'à sa sortie le 15 avril chez Drag City.
---
Chroniques - 12.04.2013 par
---