Désormais les trois parties de notre compilation Clouds/Ashes, entièrement composée de morceaux inédits offerts par une cinquantaine de musiciens habitués des colonnes d'IRM, sont disponibles en écoute et libre téléchargement via Bandcamp, mais notre série d'interviews continue. En semant ces petits cailloux en forme d'entretiens, inspirés tout comme les compositions de nos contributeurs de tous horizons géographiques et musicaux par les thèmes "Sur un nuage" ou "Sous les cendres" et agrémentés de surprises à intervalles réguliers, nous vous invitons à vous familiariser avec leurs univers, en espérant que ceux-ci vous surprennent et vous enthousiasment autant que nous.
---
Découverte sur EP grâce aux hasards de Facebook - le crédit en revenant d'ailleurs à Demian Johnston comme cette interview l'explique plus bas -, on n'a cessé depuis de suivre avec attention les travaux d'Iphigenia, de l'EP de démos Godlike mettant à jour les racines de son dark ambient sépulcral mâtiné de drones éthérés ou de chamber folk déglinguée, au récent split Crowhurst / Foie Gras qui la voyait associée en novembre dernier à son (presque) voisin californien Jay Gambit pour un diptyque nettement plus noisy et oppressant, augurant du meilleur pour sa collaboration prochaine avec le sus-nommé Demian J. (ça aussi on y reviendra). Un musicien que la jeune américaine côtoie aujourd'hui de même que Nadja, Thisquietarmy, Lawrence English ou FRKSE sur notre compilation Ashes avec un Lavender Fog plombé à souhait, point de départ d'une interview qui a le mérite d'aller droit au but.
---
L'interview
IRM : Y a-t-il deux ou trois choses que nos lecteurs devraient savoir de toi avant d'écouter la compil' ?
Foie Gras : Bonjour ! Je m'appelle Iphigenia et je fais de la musique en tant que Foie Gras. Je viens de San Francisco en Californie et je blogue pour la marque de vêtements Actual Pain et la maison de disques Flenser Records.
Qu'est-ce qui t'a décidé à prendre part à ce projet de compilation ?
J'ai été approchée par Rabbit et j'étais absolument intriguée par l'idée de créer une chanson pour refléter un thème.
Si tu devais décrire ta contribution en une phrase ?
"Toute résistance est futile."
Il est malheureusement assez rare de rencontrer des représentantes de la gent féminine sur ce versant sombre du drone que tu arpentes en tant que Foie Gras, te décrirais-tu comme une iconoclaste ?
Oh bonté ! <3
Tu apparaîtras bientôt sur le label Dead Accents de Demian Johnston pour un split avec son projet de black metal instrumental BLSPHM. C'est précisément par le biais d'un post de Demian sur Facebook que nous avions découvert ta musique, et il semble que vous nourrissiez une admiration mutuelle sans vous connaître personnellement avant de vous retrouver tous deux au générique de notre compilation Ashes avec de nouveaux morceaux. Comment avez-vous pris contact ?
J'étais déjà une grande fan du graphisme et de la musique de Demian J. Après que tu m'aies dit qu'il postait mon travail sur sa page Facebook, j'ai rassemblé mon courage pou l'ajouter en tant qu'ami. Je suis plus que ravie de travailler avec lui.
D'ailleurs, le doom et le black metal t'influencent-ils véritablement ? Quels sont tes groupes de chevet quand on en arrive aux musiques "extrêmes" ?
Certainement ! Je pourrais parler des heures de mes favoris. Pour n'en citer que quelques-uns, j'apprécie vraiment Deathspell Omega, Om, Sleep, Ash Borer, Sutekh Hexen, Burzum bien sûr, Deafheaven, Wolves In The Throne Room, Horseback, Skullflower, Dephosphorus, etc etc etc...
Notre connaissance de San Francisco est un peu tronquée par les clichés, capitale progressiste des États-Unis d'un côté ou bastion de la culture bobo de l'autre, que t'inspire ta ville et comment se porte sa culture underground ?
De l'obscurité à la lumière, il y a quelque chose pour chacun à San Francisco. C'est incroyable. Cette ville encourage la créativité et accueille les esprits ouverts. La culture underground n'est pas vraiment celle à laquelle tu t'attends. A ma connaissance, nous n'avons rien d'aussi cool que The Black Circle (Norvège) ou Les Légions Noires (France), mais nous avons une riche culture scénique, ce qui est toujours amusant.
Tous tes EPs sont disponibles en téléchargement libre via Bandcamp. Mais de façon plus générale, la musique "gratuite" ça t'inspire quoi ?
Je suis certaine que tout ce que je sortirai par moi-même (et pas sur un label) sera toujours gratuit car je ne cherche pas à gagner ma vie avec ma musique (ou du moins pas encore). Je pense que les gens sont plus enclins à soutenir les artistes émergents quand leur musique est disponible librement.
Un disque à écouter sous les cendres ?
There Is Something Hanging Above, par Boduf Songs, ou Rehersal Demo par Sunn O))).
---
La surprise
La surprise du jour c'est une seconde interview du côté du blog Des Cendres à la Cave, où il est question de Sunn O))) et de Chelsea Wolfe, de la collaboration sus-mentionnée avec Crowhurst et d'influences picturales, de plans pour 2013 et de l'origine du pseudo Foie Gras entre autres réjouissances. Iphigenia signait en effet fin décembre l'inédit Trench Ritual sur A noise at the end of the tunnel, premier chapitre de la gargantuesque compil' en 5 parties que DCALC nous propose volet par volet en libre téléchargement, dans cette veine sombre et immersive qui sied on ne peut mieux à l'univers de la Californienne... mais jugez plutôt :
---
Quelques liens utiles
Foie Gras sur IRM - Bandcamp - Facebook - Soundcloud - Twitter
---
English version
IRM : Are there a few things that our readers should know about you before listening to the compilation ?
Foie Gras : Hello ! My name is Iphigenia and I go by Foie Gras. I'm from San Francisco, California and I blog for the clothing brand Actual Pain and the record company Flenser Records.
What made you decide to take part in this compilation project ?
I was approached by Lapin [editor's note : RabbitInYourHeadlight on facebook] and was absolutely intrigued by the idea of creating a song to reflect a theme.
If you had to describe your contribution in one sentence ?
"Resistance is futile."
Unfortunately, it is quite uncommon to meet women on that dark side of drone you explore as Foie Gras, would you describe yourself as an iconoclast ?
Oh goodness. <3
You'll appear soon on Demian Johnston's label Dead Accents for a split with his instrumental black metal project BLSPHM. It is precisely through a post from Demian on Facebook that we became aware of your music, it seems that there was a mutual admiration between you two without knowing each other personally and now you're both appearing on Ashes with brand new tracks. How did you become in contact ?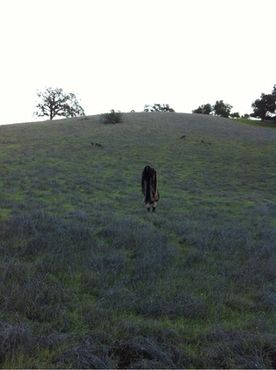 I was already a big fan of Demian J's illustration/music. After Lapin told me he posted my work on his Facebook, I gathered the courage to add him. I'm more than ecstatic to work with him.
By the way, are black metal and doom part of your influences in some way ? What are your favourite "extreme" bands ?
DEFINITELY ! I could go on for hours about my favorites. To name a few I really like Deathspell Omega, Om, Sleep, Ash Borer, Sutekh Hexen, (of course) Burzum, Deafheaven, Wolves In The Throne Room, Horseback, Skullflower and Dephosphorus, etc etc etc...
Our knowledge of San Francisco is a bit truncated by clichés, progressist capital of the US on one side or stronghold of the "boho" culture on the other, what does your city inspire you and how is going its underground culture ?
From darkness to light, there's something for everyone in San Francisco. It's amazing. This city pushes creativity and welcomes open minds. The underground culture isn't really what you'd expect. To my knowledge, we don't have anything cool like The Black Circle (Norway) or Les Légions Noires (France), but we do have a rich concert culture which is always fun.
Your EPs are available to download for free through Bandcamp. On a more general level, what are your thoughts about "free" music ?
I'm certain anything and everything I will release myself (and not under a label) will always be free since I'm not looking to make a living off my work (yet). I feel that people are more inclined to support newer artists when music is available for free.
A record to listen to, laid under the ashes ?
There Is Something Hanging Above, by Boduf Songs or Rehersal Demo by Sunn O))).
---
A écouter et télécharger librement :
Clouds :
Clashes :
Ashes :
---
A lire également dans notre série :
Interview sous les cendres - 1/ Tapage

Interview sur un nuage - 1/ Arno Mori

Interview sous les cendres - 2/ lufdbf

Interview sur un nuage - 2/ Fuji Kureta

Interview sous les cendres - 3/ Cyrod Iceberg

Interview sur un nuage - 3/ Richard Kapp

Interview sous les cendres - 4/ William Ryan Fritch (aka Vieo Abiungo)

Interview sur un nuage - 4/ Y. K L Ei N

Interview sous les cendres - 5/ Nicolas Godin (aka Shape2)

Interview sur un nuage - 5/ 7even Sun

Interview sous les cendres - 6/ Christ.

Interview sur un nuage - 6/ Aodhán O'Reilly

Interview sur un nuage - 7/ Dog Bless You

Interview sous les cendres - 7/ Stormloop

Interview sur un nuage - 8/ Trivo

Interview sur un nuage - 9/ Minor Sailor

Interview sur un nuage - 10/ T.Saul (Earthling)
---
---