Désormais les trois parties de notre compilation Clouds/Ashes, entièrement composée de morceaux inédits offerts par une cinquantaine de musiciens habitués des colonnes d'IRM, sont disponibles en écoute et libre téléchargement via Bandcamp, mais notre série d'interviews continue. En semant ces petits cailloux en forme d'entretiens, inspirés tout comme les compositions de nos contributeurs de tous horizons géographiques et musicaux par les thèmes "Sur un nuage" ou "Sous les cendres" et agrémentés de surprises à intervalles réguliers, nous vous invitons à vous familiariser avec leurs univers, en espérant que ceux-ci vous surprennent et vous enthousiasment autant que nous.
On aime Decorative Stamp, son incroyable catalogue de disques fragiles et fureteurs pratiquant l'amalgame sonore et l'expérimentation et ayant pour trait commun une mélancolie douce-amère, voire parfois joliment acérée, et une incroyable élégance.
On aime aussi énormément James Reindeer et sa façon d'injecter dans le fondement même de sa musique ses expériences, son parcours et sa culture, les recouvrant d'un voile poétique abstrait mais jamais abscons qui rendent ses disques si personnels et touchants. Dès lors, lorsque l'idée d'Ashes a commencé à germer dans l'esprit de la rédaction, si nous ne savions pas vraiment à quoi ce volet allait ressembler, nous étions au moins sûrs d'une chose : James Reindeer devait en faire partie.
Qui mieux que le co-fondateur de Decorative Stamp (avec James P. Honey déjà croisé à maintes reprises au sein des magnifiques Murmure Breeze ou A Band Of Buriers entre autres), membre du nébuleux collectif Iron Filings And Sellotape, auteur d'une tripotée d'albums en collaboration avec une tripotée d'artistes, pour représenter le versant plus sombre de l'éclectisme d'IRM ? Bien que sa musique ne soit pas si sombre que cela. En revanche, ce qu'elle interroge, ce qu'elle poursuit, ce qu'elle remue en profondeur, ce sont bien nos pensées enfouies, nos chagrins et nos larmes. Parce que pour sonner ainsi, pour exsuder de tels parfums mélancoliques, sans doute faut-il être habitué à scruter ses sentiments et ses idées, y compris les plus noirs.
---
L'interview
IRM : Y a-t-il deux ou trois choses que nos lecteurs devraient savoir de toi avant d'écouter la compil' ?
James Reindeer : C'est une question difficile. On me demande de me présenter mais je ne suis pas sûr que les lecteurs aient besoin de savoir quoi que ce soit me concernant avant d'écouter la compilation. Je dirais que je suis très heureux de pouvoir exprimer mes sentiments et émotions dans mon travail, essayant toujours de donner du sens et de partager mes expériences, de manière à ce que mes productions aient une force émotionnelle qui puisse être clairement perçue par l'auditeur.
Qu'est-ce qui t'a décidé à prendre part à ce projet de compilation ?
Il y a un moment que j'ai la plus grande considération pour le respecté Indie Rock Mag, et j'ai tout de suite été honoré de l'invitation à participer, mais il y avait aussi le thème de la compilation qui avait l'air d'être quelque chose d'assez spécial, d'un peu hors du commun, et le concept de la contribution étant "enterré sous les cendres", je n'ai pas eu à faire un effort d'imagination surhumain pour arriver à quelque chose d'adapté !
Si tu devais décrire ta contribution en une phrase ?
Une histoire tragique de perte et de regrets.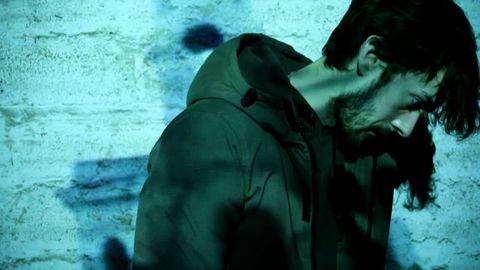 Tous tes LPs sont disponibles en streaming via Bandcamp. Mais de façon plus générale, la musique "gratuite" ça t'inspire quoi ?
C'est quelque chose de génial, bien sûr. La musique est un vrai miracle dans ce monde étrange et tourmenté, quel meilleur moyen d'embellir un moment, une journée, une semaine ou une vie entière qu'un accès libre à un peu de musique. C'est une façon parfaite d'amener les gens vers des sons nouveaux et intrigants et ça devrait être considéré comme un bon moyen de partager toute la magie que la musique est susceptible de contenir.
Decorative Stamp va-t-il sortir d'autres albums en 2013 après une belle année 2012 ?
Haha ! Toujours un sujet brûlant ! Oui, nous avons déjà quatre ou cinq sorties qui se préparent pour les prochains mois, mais pour la plupart c'est encore top secret. Mais je crois pouvoir annoncer qu'il va y avoir de nouveaux épisodes à la saga 667, que notre ténébreuse équipe britannique nous prépare quelque chose de charmant, et que deux collaborations assez incroyables et sans doute inattendues sont en cours. On aime conserver le côté "fait maison" de notre travail donc on n'aime pas trop se projeter à trop long terme dans le futur, pourtant il y a d'autres sorties importantes qui prennent doucement forme et qui vont sans aucun doute plaire à pas mal de gens. Beaucoup de choses à attendre vraiment, je peux l'annoncer sans réserve !
Des nouvelles d'Iron Filings And Sellotape ?
Iron Filings and Sellotape sont en ce moment même terrés dans leur bunker à ciseler un flot ininterrompu de données. En raison du caractère ultra secret de leurs opérations, je ne peux pas me permettre d'en dire beaucoup plus. Pourtant, de par leur nature, on peut être sûr qu'il y aura de nouvelles choses bientôt. Je pense que je peux me permettre d'annoncer qu'une réinterprétation exclusive d'un titre issu de Amidst the Grease and Chaos avec mes propres ajouts de voix est au programme d'une compilation à venir dans un futur pas trop lointain.
Comment vas-tu, James ?
Eh bien, merci de me le demander. Bien que ce ne soit pas la question la plus facile à laquelle répondre. 2012 a été une année incroyablement difficile pour moi, une année qui a eu son lot de drames et de tristesse. Pourtant, j'essaie vraiment de remettre un pied devant l'autre, de trouver la voie vers des jours meilleurs. Je suppose qu'il y a toujours une faible lueur d'espoir au loin, mais je suis souvent perdu dans l'ombre. Pourtant, avec des amis et une famille si merveilleux, à la fois proches et lointains, je m'efforce de me relever et d'aller de l'avant.
Un disque à écouter sous les cendres ?
Oh wow. Il y en a tellement ! Probablement les trois-quarts de ma collection vinyle. En tête de liste je dirais The Hours de Philip Glass, Didn't it Rain de Songs:Ohia, Telegraphs In Negative / MouthsTrapped In Static de Set Fire to Flames, et peut-être Monoliths & Dimensions de Sunn O))).
---
Quelques liens utiles
Pour celles et ceux qui ne connaîtraient pas encore James Reindeer, un petit détour par cette interview réalisée à l'heure des bilans 2011 ou par celle-ci, plus longue, des copains de Trip-hop.net, devrait aider à circonscrire, pour peu que cela soit possible, le travail de cet éternel stakhanoviste du mot et du son.

James Reindeer sur IRM - Bandcamp - Facebook - Site Officiel - Blog
Decorative Stamp sur Bandcamp - Facebook - Blog
---
English version
IRM : Are there a few things that our readers should know about you before listening to the compilation ?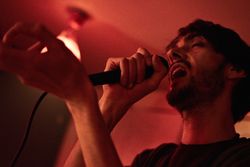 James Reindeer : That's a tough one. It sounds like I should be introducing myself, but I'm not sure that there is anything the readers really should really need know about me before listening to the compilation. I would tell you that I am greatly motivated by conveying feelings and emotions in my work, always attempting to create a sense and understanding of shared experience, to try to produce works that have an emotional gravitas which can be clearly interpreted by the listener.
What made you decide to take part in this compilation project ?
I have long held the mighty Indie Rock Mag in high regard, and was immediately grateful for the invitation to contribute, but also the theme of the compilation itself seemed to be something a little special, something a little out of the ordinary, and with the concept for my contribution being 'buried under ashes', it wasn't a vast stretch of the imagination to be able to come up with something suitable !
If you had to describe your contribution in one sentence ?
A tragic tale of loss and regret.
What are your thoughts about "free" music ?
Free music is great, naturally. Music is a true wonder in this troubled and curious world, and what better way to improve a moment, day, week or lifetime with access to a little music without charge. It is a perfect way to introduce people to new and intruiging sounds and should be seen as a great way to share the magic that can be contained within the musical form.
Some releases from Decorative Stamp planned in 2013 after this wonderful 2012 ?
Haha ! Always a hot-topic ! Yes, we do already have perhaps four or five releases currently gathering pace for the upcoming moons, but they are for the most part 'top secret' at the moment. But I guess I can reveal that there will be further installments in the 667 saga, that there will be something soothing from our english gloom brigade, as well as two rather awesome, and perhaps unexpected collaboratory releases in the works as well. We like to keep everything as organic as possible, so we don't like to predict too far into the future, still there are some other big releases slowly moving forward which are without a doubt going to blow a lot of folk away. Much to look forward too indeed, I can wholeheartedly assure you that !
Some news about Iron Filings And Sellotape ?
Iron Filings and Sellotape are currently embedded in their bunker and chiselling away at a constant stream of materials. Due to the utmost secrecy of their operation, I cannot permit myself to reveal much more. Still, due to the nature of their operation, we can be sure that new materials will be forthcoming. I guess I would be permitted to reveal that an exclusive re-interpretation of one of the tracks from 'Amidst the Grease and Chaos' with my own vocal additions, will be emerging on a tape-based compilation appearing in the not-too distant future.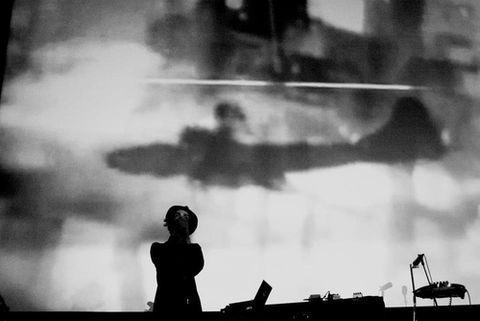 How are you, James ?
Well, thank you kindly for asking. Although it is not the easiest question for me to answer. 2012 was an incredibly hard year for me, one that contained a lot of tragedy, sadness and heart-break, and how I know that I am still very much feeling the effects of that. But, at the same time, I am trying very hard to put one foot in front of the other, to find a path onwards and upwards to better days. I guess I am always hopeful for a flickering light in the distance but am often lost within the dark. Still, with such wonderful friends and family both near and far, I am always continuing to lift myself up and press onwards.
A record to listen to, while under the ashes ?
Oh wow. So many, so many. Three-quarters of my vinyl collection probably. Off the top of my head I would recommend The Hours by Philip Glass, Didn't it Rain by Songs:Ohia, Telegraphs In Negative / MouthsTrapped In Static by Set Fire to Flames and maybe Monoliths & Dimensions by Sunn O))).
---
A écouter et télécharger librement :
Clouds :
Clashes :
Ashes :
---
A lire également dans notre série :
Interview sous les cendres - 1/ Tapage

Interview sur un nuage - 1/ Arno Mori

Interview sous les cendres - 2/ lufdbf

Interview sur un nuage - 2/ Fuji Kureta

Interview sous les cendres - 3/ Cyrod Iceberg

Interview sur un nuage - 3/ Richard Kapp

Interview sous les cendres - 4/ William Ryan Fritch (aka Vieo Abiungo)

Interview sur un nuage - 4/ Y. K L Ei N

Interview sous les cendres - 5/ Nicolas Godin (aka Shape2)

Interview sur un nuage - 5/ 7even Sun

Interview sous les cendres - 6/ Christ.

Interview sur un nuage - 6/ Aodhán O'Reilly

Interview sur un nuage - 7/ Dog Bless You

Interview sous les cendres - 7/ Stormloop

Interview sur un nuage - 8/ Trivo

Interview sur un nuage - 9/ Minor Sailor

Interview sur un nuage - 10/ T.Saul (Earthling)

Interview sous les cendres - 8/ Foie Gras

Interview sur un nuage - 11/ Marnitude
---
Interviews - 22.02.2013 par leoluce, mag?
---
---